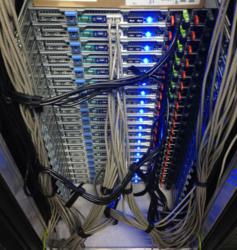 We are really grateful for the tremendous help and support that Vodien has provided to get our portal up and running.
Singapore, Singapore (PRWEB) December 12, 2012
Turning a web hosting business into a profitable venture is definitely a formidable task considering the severe competition that is present within the industry. However, Vodien Internet Solutions has turned out to be one of the brightest stars of the web hosting industry, as shown by their recent dedicated server hosting award from Consumer Statistics.
Over the last decade or so, there has been a rapid increase in the number of web hosting companies. With both individuals and enterprises looking to cement their presence within the online world, web hosting companies were provided with a wide variety of clients looking around eagerly for quality services.
However, consistent profit generation through web hosting services requires dedication and a strong commitment towards clients. That is exactly what Vodien Internet Solution has done. By responding to customer queries in a timely manner and providing quality back end server management, over the last 10 years they have managed to capture a significant portion of the Internet market and continue to attract more on a daily basis.
"We are really grateful for the tremendous help and support that Vodien has provided to get our portal up and running. Installation was easy, and Vodien's support Staff was excellent in helping us through it. We are glad to say that we'll be sticking to Vodien, as their support and willingness to help us with our technical problems is just wonderful, and saved us tonnes of headache and trouble! "says Johnny Lim at Singapore Stocks.
Vodien caters to both small businesses as well as large enterprises. They also have affordable packages for individuals looking to host a small website with standard features such as an email server. Both types of clientele are given access to cutting edge high-end hardware such as remote management tools with accessibility via keyboard, mouse and video.
Moreover, Vodien understands the need for keeping in line with the latest technological developments. That is why they wasted no time at all in setting up a vastly superior cloud computing infrastructure. With their cloud hosting plans that have been designed for both the individual consumer and enterprise entities, clients are offered features such as high bandwidth tolerance, industry-grade server hardware and daily backups to negate data loss or corruption hazards.
For businesses, Vodien also provides Site Sentry with its business cloud hosting packages. Site Sentry is a custom application developed by Vodien that informs a user when his or her website has undergone unauthorized modifications. In today's day and age where cyber-attacks are rampant, such security features are extremely important.
Vodien also provides CDN (Content Delivery Network) that is perfect for clients with customers throughout the world. Download speeds can vary from region to region. Slow download speeds or a bogged down regional server can negatively affect a user's experience while browsing through a website. With CDN, Vodien ensures that when a user logs onto a website or attempts to download a file, he or she is connected to the server nearest to their location or a server that has the lowest amount of traffic at that particular time. This leads to reduced latency and faster accessibility.
Consequently, Vodien's supremacy within the web hosting industry is of no surprise to anyone.