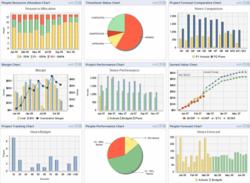 Dulles, VA (PRWEB) December 11, 2012
Unanet is sponsoring PSVillage to raise awareness of the Professional Services Automation solutions that Unanet offers with the PSVillage community of services executives.
As part of the sponsorship Unanet will participate in the PSVillage Executive Breakfasts; publish White Papers in the PSVillage Pulse catalog; contribute working artifacts to the PSVillage Library; and contribute tips and advice to the PSVillage Forum. Unanet will also share press releases and industry news.
Fran Craig, Unanet CEO commented, "In addition to operating a professional services group ourselves within the company, Unanet emerged from a professional services firm. We appreciate the opportunity that our PSVillage sponsorship affords us in joining their community of professional services executives who face constant challenges in staffing and resource management, revenue management, and effectively integrating the PS function with other departments, and with other business systems."
Established in 2004, PSVillage is committed to advancing the knowledge of the IT Professional Services / Consulting community. Its online membership site; PS Industry Benchmark; growing library of practical artifacts—the first and only of its kind in the industry; webinars; vibrant discussion forums; and popular networking events such as the Spring and Fall Executive Breakfast Series combine to equip IT Professional Services / Consulting leaders with the tools and knowledge they need to grow their Professional Services careers.
Terry Jansen, PSVillage CEO commented, "We're delighted to have Unanet join our community as a PSVillage sponsor. They bring an important element to our community being their experience and presence with government and non-profit entities, especially at the federal level. With their location in Dulles, Virginia, we see our community of over 2,500 services executives and leaders growing through various activities in the Washington DC area. These members will benefit from the various PSVillage digital offerings as well as our networking events. We're certain that Unanet will contribute in both areas and we're looking forward to working with Unanet through the new year."
About PSVillage
PSVillage is a leading source of IT Professional Services / Consulting advocacy; information and knowledge sharing; peer-to-peer networking; education; research and more. With a global membership of some 3,000 professional services leaders—representing over 1,000 companies—PSVillage is the largest, longest-established, and most influential community of Technology Professional Services practitioners in the world.
About Unanet Technologies
Unanet provides superior Services Automation software which maximizes staff utilization, reduces administrative costs by 90%, improves invoicing by 10X, and supports forward decision-making for improved profitability. Unanet's more than 900 customers include government contractors, consulting/services organizations, internal IT (Information Technology), and high-technology product companies. Unanet's suite includes resource management, opportunity/project management, timesheets, expense reports and collaboration with real time information and analytics, easy to use interfaces, and outstanding support. Unanet is available either as an Enterprise license (self-hosted software), or the On Demand License (Cloud).