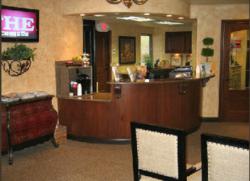 Patients like seeing information on topics they're not familiar with to better understand what treatment they might need.
Oklahoma City, OK (PRWEB) December 13, 2012
Oklahoma City dentist, Raymond Foskin, DDS, has announced the launch of a new, patient-focused website. The practice recently launched the new website created by dental website design leader, ProSites, Inc. The website contains many interactive features including patient education videos and a free Smile Analysis feature that helps patients make better informed decisions about their oral health. The website also utilizes extensive search engine optimization techniques to reach patients and local consumers who are searching for relevant information about Oklahoma City cosmetic dentistry services.
"There are many websites available and offices to choose from," says Dr. Foskin. "Having a site with my practice information and beliefs on how I care for my patients will give them the trust and comfort before being seen in my office."
Current and prospective patients now have access to information about providers, educational videos, before and after photos of dental procedures, and other informative content when they visit the website. Some of Dr. Foskin's services include:
Cosmetic Dentistry
Dental Implants
Teeth Whitening
Orthodontic and Snoring Appliances
TMJ Treatment
Dr. Foskin is also utilizing his website to educate the community on the importance of oral health. The website includes a links page with informative resources as well as a frequently asked questions page with topics ranging from gingivitis to the safety of silver fillings.
"Patients like seeing information on topics they're not familiar with to better understand what treatment they might need," says Dr. Foskin. "Also, seeing frequently asked questions puts patients at ease when they see that they're not the only one who doesn't understand the procedure. It's all about making the patient feel comfortable from the get go and we continue to achieve that level of comfort when they're in my office."
About Raymond Foskin:
Raymond Foskin graduated from OU School of Dentistry in 1993. His passion for the dental field dates back as far as he can remember. In addition to helping his patient's reach their optimal oral health, their comfort and general well-being are also very important to him. Dr Foskin is happy to offer his patients in Oklahoma City, dental implants. He is one of the few local general dentists who performs both the surgical placement and restoration of the implants. He is also qualified and experienced at administering braces. Dr. Foskin strives to meet the dental needs of the entire family as he practices safe, effective and gentle dentistry. To find out more about Dr. Raymond Foskin and his practice, check out his website at theokcdentist.com.