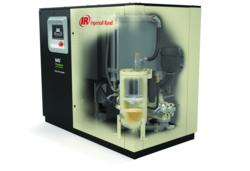 Highest level of reliability, efficiency and productivity.
Brussels, Belgium (PRWEB) December 09, 2012
Ingersoll Rand, a global leader in advanced technology for air compressors, tools, pumps and material handling has expanded its contact-cooled rotary screw air compressor line with the introduction of the R-Series 37-45 kW / 50-60 hp range. The new range delivers premium rated efficiency with the best value proposition in fixed speed and variable speed models at capacities from 4.80 to 7.59 m3/min / 169-268 cfm.
"With the 37-45 kW range of R-Series compressors, Ingersoll Rand is able to deliver the highest level of reliability, efficiency and productivity for a broader range of customers, while providing the same industry-leading and time-proven designs and technologies offered by the larger 55-75 kW and 90-160 kW R-Series compressor ranges," said Davor Horvat, Product Manager EMEIA. Following the larger versions, the new R-Series 37-45 kW features the Progressive Adaptive Control (PAC) Protection, the V-Shield Technology, the new Xe-Series Controller for Web-enabled communication and control of the compressor. This machine is also available in the Total Air System (TAS) configuration, minimizing installation costs and space.
Ingersoll Rand continues to expand its R-Series range of rotary screw air compressor with this extension, which addresses the needs of various general manufacturing industries such as automotive, textile and precision mechanics. The R-Series range extension further addresses the challenges all customers face as they seek more energy efficient, easier to use, lower maintenance compressors.
The new R-Series compressors are already available for ordering, and will be launched in production in the EMEIA region as of 1st December 2012. For further details, please contact your local Ingersoll Rand compressed air professional.
# # #
About Ingersoll Rand
Ingersoll Rand (NYSE:IR) advances the quality of life by creating and sustaining safe, comfortable and efficient environments. Our people and our family of brands—including Club Car®, Ingersoll Rand®, Schlage®, Thermo King® and Trane® —work together to enhance the quality and comfort of air in homes and buildings, transport and protect food and perishables, secure homes and commercial properties, and increase industrial productivity and efficiency. Ingersoll Rand products range from complete compressed air systems, tools and pumps to material and fluid handling systems. The diverse and innovative products, services and solutions enhance our customers' energy efficiency, productivity and operations. Ingersoll Rand is a $14 billion global business committed to a world of sustainable progress and enduring results within our company and for our customers. For more information, visit ingersollrand.com or ingersollrandproducts.com.