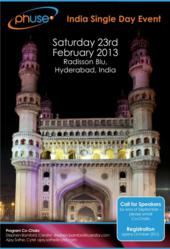 "This is the perfect time to bring PhUSE events to India."
Hyderabad, India (PRWEB) December 11, 2012
PhUSE, a global non-profit community for the advancement of clinical informatics, is proud to announce its first Asian Single Day Event. This PhUSE Single Day Event will take place in Hyderabad, India February 23rd, 2013 from 9am to 4pm. The theme of the day is, "Indian Statistical Programming: GenNext." This event will focus on exploring late stage development clinical programs as well as integrated summaries of safety and efficacy and examine how efficient coding can save time. Further information can be found on the PhUSE website http://www.phuse.eu/One-Day-Events2013Hyderabad.aspx
"PhUSE strives to be a unified voice representing statistical programmers and biometricians from around the globe. Having successfully held events in Europe and America, this first step in providing education and support to the large Indian community is a both a major achievement for PhUSE and also a very well received addition to the Indian conference circuit. There is a global nature to the presenters and I am sure this will be the first of many successful events," says Stephen Bamford, Events Director for PhUSE and Executive Director and co-founder at Cerafor.
Indian Statistical Programming is progressing away from the classic business process outsourcing model and starting into more strategic late phase work. This change alters the way clinical statistical programmers and statisticians need to be trained.
"India has a growing pool of Statistical Programmers striving to enhance their skill. They look up to PhUSE as an ideal technical community to join for career advancement. This is the perfect time to bring PhUSE events to India with access to overseas events constrained by budgets. I feel sure the PhUSE India SDE will mark the beginning of a rich professional networking platform for the Indian programmer," says Ajay Sathe Event Co-Chair and CEO at Cytel Statistical Software & Services Pvt. Ltd.
PhUSE is happy to bring a day of interactive discussions on topics of efficient coding and validation techniques to this new audience. The day will include presentations, panel discussion and networking among attendees.
The event will take place at the Radisson Blu hotel in Hyderabad, India. The event is free to PhUSE members and $35 for non-PhUSE members. Breakfast, lunch and tea are included in the rate.
Sponsorship opportunities are available. Contact the PhUSE office: office(at)phuse(dot)eu.
PhUSE, Share – Contribute – Advance, provides the industry with the premier platform for creating and sharing ideas, tools and standards around data, statistical and reporting technologies; PhUSE is a non-profit, volunteer supported, community of professionals who are passionate about advancement of clinical information. Since its inception, PhUSE has expanded from its roots as a conference for European Statistical Programmers, to a global platform for the discussion of topics encompassing the work of Data Managers, Biostatisticians, Statistical Programmers and eClinical IT professionals. http://www.phuse.eu