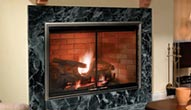 Preparing for the winter was a challenge but my heating bills have already lowered since using my upgraded fireplace.
Chicago, IL (PRWEB) December 21, 2012
Spending time with family in front of a warm fireplace is something that is as enjoyable as it is memorable, so there is no reason to forfeit style or functionality for cost this winter. Heatilator fireplace doors are affordable and fully customizable, enabling users to select the perfect style and look for their home. These doors can transform the atmosphere of any room without detracting from the space. Supreme Fireplace Doors offers stylish decorative fronts to customize the look of any fireplace. Consumers have a wide range of options - from subtle pewter to black arched filigree - that match their individual tastes.
Gas, wood, and electric fireplace models are also available and for a limited time supremefireplaces.com is offering a 5% discount on merchandise storewide which can be applied with their free shipping. Consumers who have factory-built fireplaces must consider their Heatilator model numbers before purchase. These numbers are generally located inside of fireplaces and help determine the perfect fit for a new Heatilator fireplace door.
There are many advantages of using Heatilator doors. These doors can lower heating and energy bills during the harsh winter months. Homeowners with pets or small children also have the added benefit of knowing the fire is safely contained behind glass doors, so spending time with family and friends in front of the fire is both safe and relaxing. And for those looking to add a touch of personality while increasing the value of their home, new fireplace doors easily enhance the interior design of any home.
Since its establishment in 1990, Supreme Products, Inc. has been furnishing homes using factory Heatilator doors and fireplace accessories. By installing a fireplace door from this authorized Heatilator seller, consumers can rest assured that their fireplaces are safely enclosed behind elegant doors. Use PRSP5 to take advantage the new 5% discount code provided by supremefireplaces.com and add an extra sparkle to a new fireplace without spending lots on major renovations.