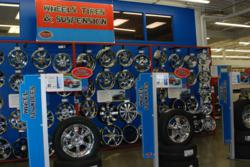 Everyone at Chux Trux excited about the opportunity to work with Giovanna Wheels," said Seth Gortenburg, the president and owner of Chux Trux
Independence, Mo (PRWEB) December 06, 2012
"Everyone at Chux Trux excited about the opportunity to work with Giovanna Wheels," said Seth Gortenburg, the president and owner of Chux Trux. "Giovanna Wheels are some of the most attractive luxury wheels available today."
In 2010, Chux Trux received the prestigious Specialty Equipment Market Association's (SEMA) Retailer of the Year award. "It is only fitting that the best automotive accessory dealer in the U.S. will be selling the best custom wheels," says Gortenburg.
Giovanna Wheels is the leader of fashion in automobile custom rims. No other competitor can match the pace of innovation demonstrated by the brand. Its success has inspired the maker of Giovanna Wheels to introduce GFG, Koko Kuture and Gianelle that feature differing character, aimed at other groups of discerning customers. The original line of wheels has been supplemented by the forged line, giving the customer the option to choose the wheel rim that is best suited to production of each specific design.
About Chux Trux
Chux Trux is Kansas City's leading car, truck, Jeep, van and SUV accessory retailer. Established in 1991, Chux Trux has three locations in the Kansas City area – Independence, Olathe, and Kansas City North. Chux Trux has grown because of their reputation for knowledgeable personnel and quality service. Chux Trux can power up cars, trucks, Jeeps, vans, or SUV's with wheels, tires, suspension, towing equipment, commercial caps, running boards, vehicle wraps, window tints, and bed liners. Nobody does cars and trucks like Chux.
About Giovanna Wheels
Los Angeles based, Giovanna Wheels are designed for the top-of-the-line cars but can be fitted to everyday drivers and custom cars. Giovanna Wheels always improve the appearance and the attention-getting factor of any vehicle. Although fitting a wide range of cars, Giovanna will always be an exclusive choice, made by the automobile enthusiasts who are only satisfied by the very best. Each Giovanna wheel is covered by the WTW Corp. warranty, which can be offered by authorized dealers only.