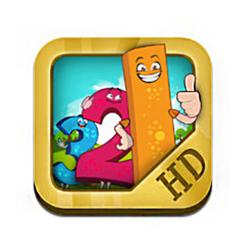 Great reviews from great app review sites
Herndon, VA (PRWEB) December 10, 2012
Innolance's educational iPad app, MyMathBook version 2.0, was released in early August and since then has been reviewed and improved. Innolance's team has been working hard to develop additional features and functionality for the iPad app. After receiving great feedback and reviews from several well-known apps review sites, Innolance is beginning to work on some new additions to help improve MyMathBook.
MyMathBook provides an easy-to-use interface that not only entertains young children but ensures that their learning takes place in the best possible environment. One app review site, iHeartThisApp, stated, "The narration for all the activities is very helpful for beginning readers and lets them be more independent when working with the app." This was important feature that was focused on because it allows for children to navigate through the app without needing additional outisde assistance. The purpose of MyMathBook is to teach children the fundamentals of math and shapes, through various interactive animations and illustrations in a way that will increase their desire to learn, while familiarizing them with technology at a critical time in their lives.
MyMathBook has received several great reviews from various app review sites thus far. These sites have downloaded the app, used it, shared it with children, and then provided detailed feedback. One review from The iMums said, "the bright colors and illustrations as well as the app being broken into several sections," is what they liked most about the app. Innolance's goal was not to make this app a game, but make it extremely kid-friendly while maintaining an educational value. With this app, kids are able to associate with the vibrant colors and images rather than just words.
Innolance set out with the intent to make this app resemble the appearance of a math book while introducing it in an appealing and fun manner. "This app is beautifully done. The math book like layout lends itself to the whole feel of the app. Kids are both getting instruction and practicing basic math concepts," says Fun Educational Apps that chose MyMathBook as one of their Top Picks.
Our next major release for MyMathBook HD will allow children share their progress. Once they have completed the test they can share their badges on FaceBook, Twitter, etc. Multiple sections of MyMathBook will allow children to share with friends and claim bragging rights.
The app is currently available on the iPad only; however, iPhone and Android versions of the app are under development and are expected to be released in the near future. The MyMathBook app has a Lite free version available for download, with limited functionality. The full HD version of MyMathBook is available for purchase in the iTunes app store for $1.99.
Innolance is an IT service provider based in the Washington D.C. area that is dedicated to offering innovative freelance solutions to our customers. Innolance focuses on Mobile and Web Application Development as well as Quality Assurance for various verticals.