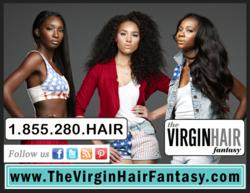 Quality hair and exceptional customer service.
Atlanta, GA (PRWEB) December 04, 2012
With The Virgin Hair Fantasy clients can easily have a truly gorgeous mane, using authentic virgin human hair.
The Virgin Hair Fantasy textures are effortless to wear and maintain. With proper care hair from The Virgin Fantasy Hair is guaranteed to be long lasting and reusable. Then The Virgin Fantasy Hair wigs and clip-in extensions are ideal for all!
Each strand of hair, wig and clip-in extension is unprocessed and free of harsh chemicals and coloring. The Virgin Hair Fantasy prides itself on giving their clients only the best, utilizing a very strict quality control process that involves washing, sterilizing, treating, conditioning and air-drying the hair. It then goes through a second stage that includes the Fantasy Examination process of extensive inspection of the hair.
The Virgin Hair Fantasy "PERUCA" Collection features a full line of lace U-Part wigs that allows for easy styling, giving you countless options from everyday hairstyles to glamorous weekend looks. Go ahead, curl, straighten, even color Hair from The Virgin Fantasy whatever mood clients are in, they can quickly style their hair to match it!
When clients want to add fulness to their look. That's simple too. The Clip-In Extensions features 100% virgin hair. Each bundle contains 4-8 pieces depending on the length. It has medium to low luster for a natural look that is versatile and long lasting.
Finally clients will have the most beautiful, luxurious and desired head of hair possible.
Living In Style will air:
We-TV
National
November 14, 2012
Wednesday
8:00am
WNPX-ION
Nashville
November 15, 2012
Thursday
9:00AM
WPXE/WPTX
Milwaukee
November 19, 2012
Monday
9:00AM
KKPX-ION
San Francisco-65
November 20, 2012
Tuesday
7:00AM
WPXP-ION
West Palm Beach
November 21, 2012
Wednesday
10:00AM
WIPX-ION
Indianapolis-63
November 22, 2012
Thursday
7:00AM
WVPX-ION
Cleveland-23
November 23, 2012
Friday
7:00AM
KPXC-ION
Denver
November 27, 2012
Tuesday
9:00AM
KSPX-ION
Sacramento-29
November 28, 2012
Wednesday
10:30AM
WBPX-ION
Boston
November 30, 2012
Friday
7:30AM
For more information about The Virgin Hair Fantasy, please visit http://www.thevirginhairfantasy.com
About The Virgin Hair Fantasy:
The Virgin Hair Fantasy provides its clients with top of the line authentic virgin human hair and exceptional customer service. TVHF is the largest virgin Brazilian and Malaysian hair distributor in the United States. Our hair is the best in the market due to its durability, versatility and luster. Textures include Natural Straight, Body Wave, Wavy and Curly.