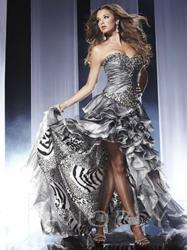 Circleville, Ohio (PRWEB) December 01, 2012
Tiffany Designs announced that its Circleville, Ohio-based authorized prom retailer "Uniquely Yours" was an episode site location during the filming of a new reality show from the Oprah Winfrey Network (OWN). Premiering December 15 at the outset of the 2013 prom season, "Six Little McGhees" follows the inspirational lives of high-school sweethearts Mia and Rozonno McGhee as they juggle marriage, a family business, and six adorable toddlers—Columbus, Ohio's, first sextuplets!
"Uniquely Yours" offers prom dresses by Tiffany Designs, Hannah S, Studio17, and Panoply. Just in time for prom, OWN's fourth episode of Six Little McGhees features a local student trying on and making her gown selection by Tiffany Designs at the bridal, prom, and pageant shop located 20 minutes from Columbus, Ohio. Visit http://www.tiffanydesigns.com to view the latest trends for the upcoming prom season.