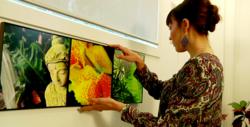 "Frame your today, your way."
Portland, OR (PRWEB) December 03, 2012
Any savvy homemaker knows that freshening up the art on their walls can be a serious undertaking—both creatively and financially. Not only are new frames expensive—they're a chore to match to furniture and other décor, and frustratingly limited in size and the kinds of materials they can frame.
Enter Vuezz founder, Jeff Jackson, who encountered this problem hanging photos in his own home, and set out to craft a solution. Now, after months of design and production, he believes what he has will ease the stress of switching up the wall décor in a room for home decorators, and let them do it on a DIY budget.
To drum up support for the product's premier, Jackson has launched a Kickstarter campaign, which features several variations of the "DIY Vuezz" project, along with an introductory video to give viewers an up-close look at how easy Vuezz display panels are to personalize, add to, subtract from, or change-up completely.
The video unveils the startlingly simple anatomy of each Vuezz display: each is a system of 12" x 12" display panels that allow consumers to display "whatever it is that inspires them," from family photos to homemade crafts, says Jackson, and clip them together in square or rectangular forms. Vuezz panels project a minimalist feel, giving whatever they're framing a sleek, modern look without drawing attention to the frames themselves.
Given the versatility and style of Vuezz displays, it will come as a surprise to many how inexpensive the complete framing systems are. Whereas designer frames are often cost prohibitive to average consumers, Vuezz has managed to create an attractive and highly durable framing system for less than half the price of its competitors. The super durable material in Vuezz framing systems is locally-produced and eco-friendly, allowing Jackson and his team to keep costs low.
To thank those who pledge to their Kickstarter campaign, Vuezz is offering DIY Vuezz systems as rewards. Jackson ensures that these early orders will be shipped and delivered before Christmas.
Proceeds generated by the Kickstarter campaign will be dedicated to production and release of a service which allows users to place digital pictures in a frame online, and receive a hi-resolution printed version in the mail within as little as a few days.
For more information, contact Vuezz at jeff.j@vuezz.com or visit DIYVuezz.com.