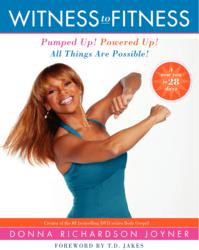 "An inspirational book with the right blend of instruction and real life stories that touch your heart and soul. Donna's purpose and passion has helped others overcome and be victorious in their health and in their life." - Pat Smith & Emmitt Smith
San Francisco, CA (PRWEB) December 26, 2012
In WITNESS TO FITNESS: Pumped Up! Powered Up! All Things Are Possible!, Donna Richardson Joyner brings together faith, food, and fitness in a way no one else has done before, taking the reader on a journey to transform his or her life while walking in the newness of health.
Each day of Donna's dynamic 28-day plan begins with an inspiring scriptural quote and a brief note from one of the people Donna has worked with whose life has been transformed by the Witness to Fitness plan. Additional features include a daily menu with delicious recipes, four-color photographs of Donna demonstrating the workout for the day, and an inspirational song suggestion that adds just the right beat to keep readers moving.
Donna's energy is contagious, and Witness to Fitness provides a unique fitness program that can be followed indoors or out, by people at any fitness level, with no special equipment required. It's a highly effective health and weight loss plan for anyone with just a little faith.
Donna Richardson Joyner is a renowned fitness and lifestyle expert who has traveled to 50 states, 50 countries, and 7 continents motivating and empowering people to walk in the newness of good health. The only member to have served under both President George W. Bush and President Barack Obama on the President's Council for Fitness, Sports, and Nutrition, she has appeared in and sold millions of fitness videos, including Buns of Steel and the number one inspirational fitness video program Body Gospel. She is a former fitness expert for the NBC Weekend Today Show and ESPN Fitness Pros, and the producer and host of Donna Richardson: Mind, Body, & Spirit. An active philanthropist, she serves as an advisory board member of the Robert Wood Johnson foundation, the LPGA Foundation, and as a consultant for the Boys & Girls Clubs of America. She also serves as an ambassador to the Let's Move initiative launched by the First Lady, Michelle Obama. Donna is the founder of Grow Green Get Fit. She has been inducted into the Fitness Hall of Fame and has been named one of the "25 most inspiring women in America" by Essence magazine.