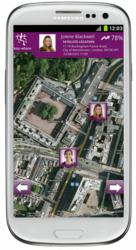 By making Kno-Where 'free forever' we expect to see the app become one of the most downloaded by parents in short order.
Ipswich, Suffolk (PRWEB UK) 6 December 2012
Parents now have access to additional peace of mind provided by being able to view the location of family members for free.
Leading mobile tracking provider, Panaramix have launched their Kno-Where family phone tracking service absolutely as a 'free forever' service - with no time limit on its use.
This new take on mobile phone tracking allows parents to accurately see their family's locations via a computer or their own mobile phone.
Family mobile locations are updated automatically on the free version of the software with tracking starting at 8.30 am and stopping at 10.30pm.
This new service is aimed at providing parents with a useful way of keeping tabs on the family whilst at home, on the move or even when they (parents or children) are on holiday.
For parents wanting more features, there is a premium but low cost paid version of the service that can be purchased for a month at a time with no minimum term.
Premium features include flexible mobile tracking periods right up to 24/7 with locations provided every 3 minutes if required.
In addition paying customers can access the location history of a mobile on their account up to 3 months old. Historical locations and journeys can be viewed in map or list view and includes very detailed information for each location - including the tracked phones battery status at each location.
Panaramix differentiates Kno-Where from the majority of mobile 'apps' by providing its products as a service - with the measured approach, quality and real life customer support structure that goes with it.
How it Works
A small 'background' (i.e unobtrusive) app is downloaded to each tracked phone. This piece of software sends the phones location according to its settings.
Parents (or employers where the business version of the product is used) can then login securely on-line or via their own mobile or desktop PC and view their family's mobile locations.
Locations are provided in map or satellite view along with actual street address as well as the battery level of the phone at the time of the location was provided.
Premium
For parents wanting additional features the premium version has plenty to offer:

Flexible tracking sequence - start and stop times can be set for each day right up to 24/7.
Flexible location update intervals right down to every 3 minutes
Location history - select a day to view all locations up to 3 months old
The premium version of the family mobile tracking service is just £3.99 per tracked phone each month with the business version being £4.99 per tracked phone per month.
However the free version of the family service is well worth having in itself and it is expected many customers will simply use this version for the bulk of the time.
LIVE!
For near real time mobile tracking the LIVE! feature is a paid service that provides a live location every 10 seconds for 5 minutes duration and is ideal should a concerned parent want to keep an extra close eye on a loved one for a short period.
About Panaramix Ltd.
Panaramix are providers of mobile tracking and associated services. Committed to providing the family with simple tools to manage the influence of the mobile device on family life a development plan including location tracking, usage restriction (lesson times, late at night) and other telecoms services are currently under development.
In addition to the Kno-Where family phone tracking, Panaramix are providers of a new breed of low cost mobile applications for businesses.
A range of features enable business customers to manage their remote workers online by connecting with mobile phones in the field to deliver GPS tracking plus workload planning and job despatch to mobile in the field.
You can find out more about all the Kno-Where tracking products at http://www.kno-where.net