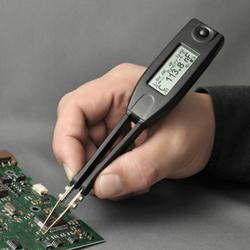 With high-precision test leads Smart Tweezers is able to handle SMD components as small as 0201 format.
Richmond Hill, Canada (PRWEB) December 17, 2012
Advance Devices, Inc., Canada has partnered with Ideal-Tek S.A., Switzerland to design and manufacture high-quality test leads for Smart Tweezers ST5 LCR/ESR meter.
The test leads are made of gold-plated non-magnetic stainless steel and able to reliably contact SMD components (as small as 0201 format) or take measurements from the devices already mounted on a board.
Several kinds of test leads varying by application precision and access type will be available.
Swiss-made test leads will be installed on all Smart Tweezers of ST51AD line and available as additional accessory kits.
Ideal-Tek S.A. is a Swiss company manufacturing top quality hand made precision tools for electronics, medical device, watch industry, jewellery, laboratories and universities since 1965.
Advance Devices, Inc. is based in Richmond Hill, Ontario and offers an expert solution for identifying, measuring, testing, and troubleshooting surface mounted devices (SMD) and leaded two-terminal devices.
Smart Tweezers™ - a digital LCR meter in a set of tweezers, identifies both marked and unmarked SMD components with easy probing of all types of passive SMD and through-hole devices. The instrument measures capacitance, inductance and resistance with speed and precision along with secondary parameters such as capacitor ESR (ESR Meter). Q (quality factor) and D (dissipation factor) and Z (impedance) measurements are also provided.
Smart Tweezers™ automatically determines type of the component (resistance, capacitance or inductance), selects proper range and signal frequency for highest accuracy measurements. Manual overrides are available as well.
Instrument's display clearly indicates the type of the component, measurement result and test conditions. The primary display shows the present reading. The secondary display (on top) shows the present reading of additional parameters or measurement conditions when the primary display shows some other feature (L, C).
Smart Tweezers™ LCR meter proves itself as an indispensable tool for SMT component sorting, in-circuit and on-board impedance testing and product debugging.