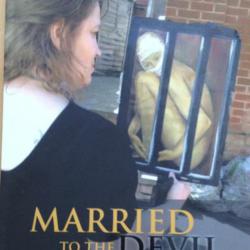 He began swearing at me and called me all the stupid cows under the sun. (I didn't know there were that many species of cows until that day)
Birmingham, West Midlands UK (PRWEB UK) 17 December 2012
Married to the Devil - A true life story is the astonishing story of how God set Amanda Marie Tweed free from a life of crime and drug addiction. The Power of God dramatically transformed this middle aged woman whose life seemed to be irreversibly spiralling out of control. Amanda committed her first offence when she was 28 years old with her boyfriend at the time. They stole £1.3 million from the Post Office where she was working as a Post Office clerk.
Today, Amanda is the main Support Worker in Brooke House (LifeSuccess Rehabilitation Centre) Birmingham, the Organisation that obeyed the calling of God to reach out to the marginalised people in our communities who have dependency and behavioural issues.
The purpose of Brooke House is not only intended to provide a comfortable "Lodging House" but to offer support and release from addictions and also to offer support with independent living skills. In Amanda's words: "I believe because of the obedience of the founders of Brooke House, God is able to command a blessing on the residents. Whether you believe in God or not, His power and presence is certainly felt in this home.
Amanda Tweed has received love and acceptance; the greatest power and strength in the world. She wants to give the same to the readers of this book. Amanda lives in Birmingham, England and is 43 years old. She has written this book as she has experienced life to the full with its ups and downs. As she takes you through her true life story, you can't help being with her as she walked through some of the dark paths of her turbulent life.
Married To The Devil by Amanda Tweed is available at Barnes and Nobles, http://www.amazon.com, Book Depository, http://www.google.com, Booktopia, eBay.com, hive.co.uk, chapters.indigo.ca, adlibris.com, trove.nla.gov.au/result, bokus.com, biggerbooks.com, powells.com, buch.ch, jpc.>Bucher,kobobooks.com, and all book Stores. Married To The Devil By Amanda Tweed is also available as eBook and iBook.
Founded in July 2009, LifeSuccess Rehabilitation Centre (Brooke House) is aimed to reach out to the marginalised people in the communities who have drugs and alcohol dependencies and behavioural issues. In doing so the service hopes to bring a holistic healing approach in their rehabilitation programme.
If you'd like more information about this topic, or to schedule an interview with Amanda Tweed and Yvonne Jarvis, please call Brooke on 0121 384 4484/ 07988779901 or email us at MTDBOOK(at)rocketmail(dot)com. You can contact by post:
LifeSuccess Rehabilitation Centre
Brooke House, 374-376 Slade Road
Erdington
Birmingham
West Midlands
B23 7LP