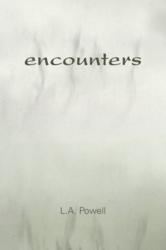 This is a celebration of sexuality - both male and female. - L.A. Powell
DALLAS, TEXAS (PRWEB) December 03, 2012
The definition of an encounter is a brief meeting with a person or thing, especially a casual or unexpected meeting.
New book "encounters" (Brown Books Publishing Group) by first-time author L.A. Powell of Dallas, Texas invites readers inside a world of erotic fantasy through a series of eighteen diverse short stories accompanied by nude sketches from artist Danielle Frazer.
"encounters," like "Fifty Shades of Gray," is a new, modern type of erotic fiction that offers readers a stimulating escape through the written word while also being visually appealing in a highly sophisticated manner.
"These vignettes are dedicated to every reader, as we each explore our own sexuality in the most personal of journeys," says Powell. "This is a celebration of sexuality—both male and female."
"We forsake all sense of reason, letting our hands and mouths at long last have their way as we discover each other's body. You inhale sharply when you recognize my absolute nakedness beneath the peach silk of my sundress." —From the short story "Taboo"
"Over the last decade women have been less inhibited and more vocal about their own sexuality," says Powell. "I felt there was an opportunity to offer women light, erotic reading specific to that purpose and current to today's society."
It's time to steal away, pour a glass of wine, and let the journey begin.
Author and business executive L.A. Powell is a candid advocate of female sensuality and independence. She currently resides in Dallas, Texas.
To learn more visit http://www.EncountersTheBook.com.
About Brown Books Publishing Group
"encounters" was published by Brown Books Publishing Group, a Texas-based independent publisher. For more information about the publisher, please go to http://www.BrownBooks.com.
# # #