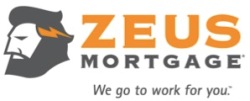 Houston, TX (PRWEB) December 10, 2012
Zeus Mortgage, a leading mortgage lender, today announced the company has received the "Gayest & Greatest" award for 2012 by OutSmart magazine. Previously honored as a finalist in 2011, Zeus Mortgage was bestowed the honor of "Best Mortgage Company" in the Houston area. Other finalists included Bank of America, John Frels and Wells Fargo Bank.
OutSmart magazine is Houston's award-winning monthly publication serving the gay and lesbian community. With a solid affiliation with the gay community through local involvement and partnerships, OutSmart magazine provides readers with local and national news, politics, health, arts and entertainment, food and dining, and issues affecting the GLBT community.
"What separates Zeus Mortgage from our competitors is our strong ties to the loyal community of Houston," stated Steven Kaufman, president, Zeus Mortgage. "To be recognized by our fellow neighbors within the gay community is truly an honor and is a great example of the importance of interacting individually with each of our dedicated customers."
Zeus Mortgage is one of the fastest growing companies in the United States, backed by a team of experts who are skilled at providing the latest market information to the company's loyal customers. Relying on extensive industry knowledge and dedication to creating customized mortgage solutions, Zeus Mortgage remains committed to delivering enthusiastic service, proactive communication, and unsurpassed value to each customer, while ensuring the mortgage process remains simple and runs smoothly.
More information about OutSmart magazine's 2012 "Gayest & Greatest" award can be at OutSmartMagazine.com. Additional information about Zeus Mortgage can be found directly at AskZeus.com.
About Zeus Mortgage
Zeus Mortgage is widely known as one of the fastest growing private companies in the United States, and is comprised of a team of world-class experts who are skilled at providing up-to-the-minute market information, offering valuable knowledge and insight to their clients. With proactive communication and enthusiastic service, Zeus Mortgage delivers unsurpassed value to their customers, while making the mortgage process simple and smooth. For more information about Zeus Mortgage please visit ASKZEUS.COM or call 800-ASK-ZEUS.