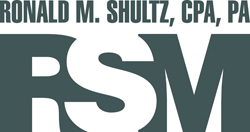 "If a business typically makes charitable contributions near the end of the year, they may want to consider holding off until January. This reduces the taxable income in 2013.
Gainesville, FL (PRWEB) December 21, 2012
Ron Shultz, a Florida certified CPA with an active practice in Gainesville, is providing step by step tax tips to small business in preparing and dealing with the tax changes that are on the way.
In his article, Shultz advises that if a business typically makes charitable donations near the end of 2012, consider holding off until January 1st 2013 or later. This will help reduce the taxable income in 2013, rather than being applicable for the 2012 tax year. One of the big hot topics for the 2013 tax reform is the Medicare surtax, according to Shultz. This includes the addition of a 3.8% surtax for Medicare for anyone who has income not earned by salary or trade.
"As a business owner, consider rebalancing a portfolio of investments to increase tax-exempt investments exposure, which will lower the net investment income. While the entirety of how the tax reform will play out in 2013 is uncertain, in all likelihood some substantial changes are on the horizon. Examine the above considerations to prepare for possible tax reform, and be sure to speak with us about how the possible upcoming tax code changes can impact a business," says Shultz. His timely article is published here: http://www.northfloridacpa.com/articles/nov_1_2012_01.htm.
Ron Shultz has more than 20 years of experience in the accounting profession. A graduate of the University of Florida, Ron has lived in Gainesville since 1973. Ron received his license as a certified public accountant in 1991. He has worked for small to multi million dollar corporations in the private sector as a corporate controller. Ron has also spent many years in public accounting doing business consulting and preparing taxes for individuals, partnership and corporations. Ron also has experience with business valuations, budgeting, Business Incorporation, cash flow analysis and other business components. Visit http://www.taxpreparationgainesvillefl.com and http://www.northfloridacpa.com for more information on Ron Schultz.