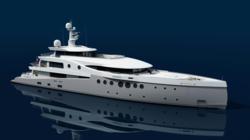 Tony Harris, CEO of Boat International Media comments, "We pride ourselves on producing the most current data and key analysis in the industry. It has been a tough financial period but the report highlights some positive movement for 2013".
Fort Lauderdale, Fla. (PRWEB) December 03, 2012
Just released annual yacht construction statistics reveal a total of 692 private yachts of 80 feet or more under construction worldwide, and while that total shows an overall 5.2% decline from last year, those who operate in the financial stratosphere have returned to the business of ordering yachts.
ShowBoats International's 2013 annual Global Order Book is the definitive guide to yachts 80 feet (24m) and above under construction. Each year the magazine presents a list of yachts in build at shipyards throughout the world with comprehensive global statistics and economic activity around large yacht orders worldwide.
This new annual report is published in full in the December 2012/ January 2013 issue of ShowBoats International magazine, which has been collecting and analyzing large yacht data since September 1991, and is now available to download at
http://www.boatinternational.com/global-order-book/reports/
The contracted length of all yachts over 80 feet currently under construction is 92,801.5 feet or 17.58 miles if the projects were placed end to end.
Key increases and decreases
Kate Lardy, editor of ShowBoats International magazine says, "there is a definite trend visible in this 2013 Order Book with the inclusion of some enormous yachts; no less than 14 projects over 100 meters [328 feet] are currently on order." She goes on to say, "This is a new record for the industry." Three of the 100+ meter yachts are sailing yachts being built in Germany, Holland and Turkey.
The uptake in orders for the very largest yachts (200+ feet) is a bright spot in the data with an increase of 16 projects to a total of 86, although the overall numbers are down by 36 builds, or 5.2%. One of the surprises is a 30% drop in open-style high-performance yacht orders from 63 in 2012 to 44 in 2013, indicating that yachts consuming a lot of fuel are less in vogue.
The smallest category of yachts - those of 80 to 89 feet, show only 119 projects recorded this year, compared to 178 last year, a drop of 33.1%. This drop is a particular issue in Italy, whose builders are dealing with a net loss of 45 hulls this year, including 26 from the Ferretti Group alone.
Innovation and lasting value a key component
"Before the economic downturn, orders were very strong in the small to mid-sized market of semi-custom yachts," said Marilyn Mower, US Editorial Director for Boat International Media. "Where interest has returned this year is for custom yachts of all sizes that showcase innovation and personal style and it's by the most financially secure who are not concerned about ordering a large yacht that may take three or more years to complete." The average size of yachts under construction has grown from 131 to 136 feet.
"Historically proven custom yards that offer a pedigree of quality and a reputation for lasting value for the yachts on the resale market are doing well," said Mower. "This isn't to take anything away from the pleasure of owning a production yacht, but there are a significant number of these on the resale market."
Geographical Analysis
Italy remains the world leader in yacht building with 272 projects although production is down by 14.2%. The Netherlands follows with significant increase (15.85%) in the total length of vessels under construction (from 10,085 to 11,684 feet YOY) as well as an increase (8.2%) in projects (from 61 to 66). Turkey is right behind with 63 projects although its average length of yachts underway is nearly 40 feet shorter than Holland (143 vs.180).
The U.S.A. remains in fourth place in terms of the total length of yachts underway 8,547 feet) although this represents 66 projects.
The United Arab Emirates climbs onto the leader board this year in 9th place with 11 projects underway for a total of 1,995 feet.
For some countries, yacht exports play a significant role in the balance of trade. Taiwan, for example, a country with almost no private yacht ownership, has seen its export of yachts rise steadily, due in part to support of the industry and the recent establishment of a yacht industrial zone in area of Kaohsuing. The investment is paying dividends as this year Taiwan passes Germany, moving into sixth place from seventh with 43 orders totalling 4,272 feet.
2013 – exciting projects in the pipeline
The market for new yachts over the 120-foot mark has begun moving and will rise further still. The American market is beginning to spend again and Asia, Brazil and Russia continue their interest in spending their liquid assets in the yachting industry. We can therefore expect to see a rise in the Global Order Book next year.
Qualifications for a project to be included in the Global Order Book are: Each yacht must be 80 feet (24m) or larger. New projects must be signed with a minimum 10% deposit received on or about Sept. 1, 2012. Speculative projects started by a yard can be listed only if actual construction is started (or ongoing) as of Sept. 1, 2012.
ENDS
For further information regarding this press release please contact Zira Skeats, Head of Digital Marketing on: zira(dot)skeats(at)boatinternationalmedia(dot)com
For more information about ShowBoats International or the 2013 Global Order Book contact Kate Lardy, editor, ShowBoats International on: kate(dot)lardy(at)showboats(dot)com
About Boat International Media
Boat International Media is the world's leading media group servicing the superyacht industry, publishing the world's best superyacht magazines and luxury books. It organizes high quality events, and provides digital media services and data to owners and professionals in the superyacht industry. Boat International Media produces more than 1.4 million magazines each year that sell in more than 57 countries worldwide and are published in 6 different languages.
About Global Order Book
Published annually, The Global Order Book provides comprehensive state-of-the-industry statistics on large yacht orders worldwide. The Global Order Book was established in 1992 by the editors of ShowBoats International Magazine to provide a body of data, updated annually in a systematic fashion, to show the scope of economic activity within the international luxury yacht industry. It is the most quoted industry reference, both in the megayacht universe and the media at large, including leading publications and news outlets such as CNN, The Wall Street Journal, Business Week, and The New York Times.
http://www.boatinternational.com updates Global Order Book data and other industry statistics throughout the year. Go to http://www.boatinternational.com/market-intelligence and http://www.boatinternational.com/global-order-book/reports/
Note to editors: Global Order Book 2013 statistics are available in pdf form with tables, charts and graphs. Comparative data for each year to 2000 can be obtained in pdf form from the magazine. Please contact Zira Skeats on zira.skeats(at)boatinternationalmedia(dot)com.