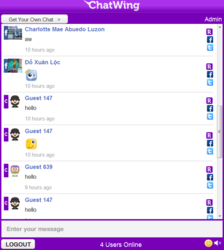 Los Angeles, CA (PRWEB) December 01, 2012
It's a common misconception that professional websites and blogs should look dull, boring or monochromatic. Incorporating creativity in every aspect of a site is important to make it stand out from competition. The goal is to be eye catching and unique. Offering website visitors with one of a kind experience when visiting one's site will definitely draw in more traffic. A free chat widget embedded in a website or blog will do the trick most of the time.
Chatwing Company envisioned creating efficient and dynamic chat software that will keep up with web users changing real-time communication standards. For three years now, the global chatbox has undergone a number of improvements and more effective features have been added. The newest development gives premium to the users' creative side.
Chatwing free chat box can be changed and re-created in many ways. Chatwing dev team is offering web users ample options to modify the chat widget that they will install in their sites. The chat application works in a simple mechanism making it easy to install and use. Modification can also be done in a breeze.
Web users can first choose the widget's style they will see fit with their sites' image or theme. The regular chatbox takes up a portion of the web page but can still be adjusted accordingly. On the other hand, the pop up window will appear as a button and needed to be clicked to take visitors to another window. Both forms have a thousand-user capacity. The vanity URL style is intended for group chats, where users can select the participants and limit the number of chatters in the chat box.
The widget's font, username, links and message colors can also be changed. Chatwing users can also alter the chat tool's border design. The enhanced chat software allows image upload that can be used to promote the brand logo or products' photos. To induce a unique chat experience to site visitors, Chatwing users are also permitted to upload MP3 links to the widget. Websites should also be flexible in re-creating their image and reputation like Chatwing. Web owners are advised to always try something new and experiment.
About Chatwing.com
Chatwing.com specializes in the new field of website chat. Over years, the Chatwing team has introduced live chat widget for hundreds and thousands of blogs. The Chatwing application bridges people from many parts of the world, creating global synergy through the Internet. The shout box can be installed in just seconds, and it can be used for varying purposes such as leisure and Internet marketing. It also allows a user to customize the size, color, and name of the widget. Chatwing is 100% free for everyone.