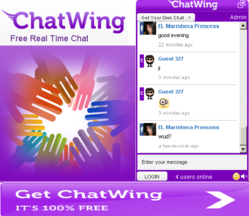 Detroit, MI (PRWEB) December 02, 2012
The World Wide Web has created a global virtual village that has made communicating to anyone in any part of the globe possible and easy. The Internet has also created an information high way where information is easily accessible. Human interaction has changed from face-to-face to virtual. There may be negative results but the number of positive effects outweighs it. People need to interact and love to connect with others. E-mail and social media sites are some of the tools for communicating yet only a chat software can facilitate real-time interaction.
Chatwing free shoutbox can be used by anyone. It operates in a simplistic mechanism that allows for easy use and installation. Whether it is intended for marketing, promotion, advocating a cause or simply to expand one's online network, this free chat widget guarantees communication leverage.
In terms of facilitating real-time interaction, Chatwing web chat tool can hold a maximum of a thousand users and can also aid group chats. The regular free chatbox form and pop-up window style have a thousand-user capacity. The vanity URL form makes private chats possible with username and shortlinks generation.
One of Chatwing's effective features is the social media integration options. This configuration makes the site and widget accessible to millions of Facebook and Twitter users. Social network expansion can be achievable in a short period of time.
The latest Chatwing chat box is highly customizable. Various ways of altering that widget's every aspect is available. Users can change the size and color of the chatbox. They can also set the username, messages and links' colors. Uploading image to serve as the chat tool's background is also possible.
Reaching out to millions of web users can be this fun and easy. The available technologies should be always used to one's advantage and growth. Communicating and connecting must be seen as a worthwhile endeavour that offers opportunities to businesses and individuals.
About Chatwing.com
Chatwing.com specializes in the new field of website chat. Over years, the Chatwing team has introduced live chat widget for hundreds and thousands of blogs. The Chatwing application bridges people from many parts of the world, creating global synergy through the Internet. The shout box can be installed in just seconds, and it can be used for varying purposes such as leisure and Internet marketing. It also allows a user to customize the size, color, and name of the widget. Chatwing is 100% free for everyone.