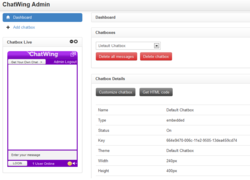 Tucson, AZ (PRWEB) December 02, 2012
Words and images are people's primary tool in expressing themselves online. Websites and blogs are dependent on photos and articles to make a point or get a message across. The more creative people use these tools, the more it contributes to their advantage. On the other hand, words and images are easily manipulated to destroy a business or a person's reputation. There are bad and good publicities. People always reason that both can be beneficial since it increases online presence. Chatwing dev team believes otherwise. The company specializing on free chat widget created a web chat tool that helps web owners protect their image by activating the full conversation control option.
The latest version of the free shoutbox produced by Chatwing Company has been used by many website owners and bloggers because of the convenience and communication leverage it provides. The improved chat software has effective features that are designed to help users improve traffic, achieve efficient real-time communication and full control over chatting activities.
Web administrators will find it easy to monitor and maintain chatboxes that are installed, especially if they are managing multiple sites or chat widgets. Chatwing free chatbox allows web admins to assign moderators in each chat tool. Both the web admin and the moderators can ban web users who are being offensive against other chatters or who attacks the business without basis. Chatwing users can also delete messages that have clear malicious intent or obscene.
The full control conversation feature of Chatwing free chat box also has a word filter option. Users just need to enter the list of words that they deem not appropriate to appear in the shoutbox. The program will automatically block these listed words.
Chatwing web chat tool is compatible to most websites and blogs. Its installation only requires a few seconds and is highly customizable. This chat widget may appear simple yet it is powerful enough to facilitate interaction among a thousand users.
About Chatwing.com
Chatwing.com specializes in the new field of website chat. Over years, the Chatwing team has introduced live chat widget for hundreds and thousands of blogs. The Chatwing application bridges people from many parts of the world, creating global synergy through the Internet. The shout box can be installed in just seconds, and it can be used for varying purposes such as leisure and Internet marketing. It also allows a user to customize the size, color, and name of the widget. Chatwing is 100% free for everyone.