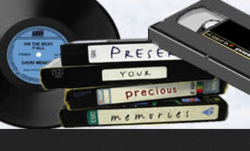 Transform travel collections, or special event photos into dynamic and entertaining presentations set to music and full of life...
Tucson, Arizona (PRWEB) December 12, 2012
Many memories are located on 35mm slides but the format is not convenient and many great photos are left wasting away in the closet collecting dust. AZCopyCats.com is offering to convert these neglected slides to video for the holidays. Seasonal discounts are available that make it easier than ever to get a professionally edited and preserved presentation of ones collection.
Sevices being offered include professional photo retouching, editing services to create a photo show on a DVD that can be enjoyed with the family during the holiday season and many years after.
The special offer is ideal for:

35mm slides of travel, family gatherings, or special events
Business projects needing digitization
Family photos for preservation
According to Popular Photography magazine, "photographic prints and slides fade even when properly stored in a cool dark place. Color slides are especially susceptible."
According to the site, the conversion offer not only creates a dynamic and entertaining presentation of your photography, it preserves the images in a format that will last and not degrade with time.
About AZCopyCats.com:
The company welcomes clients nationally and offers safe and secure shipping arrangements that ensure precious images are protected. To learn more about the special holiday slide offers, click here to visit: http://www.azcopycats.com