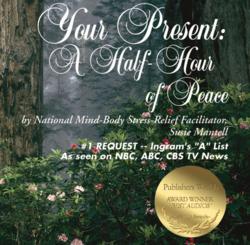 "Peace for you alone... Is your greatest wish for peace on earth? Susie Mantell's CD takes listeners on a gentle journey, effortlessly floating worries and stress away." -The Los Angeles Times Health Section
Chappaqua, New York (PRWEB) December 04, 2012
- The Best Christmas Gift for 2012 -
This holiday season, stress relief expert Susie Mantell's award-winning "Your Present: A Half-Hour of Peace," ("Best Audios Award" –Publishers Weekly) is the uniquely thoughtful (yet affordable!) gift for Christmas, Hanukkah and Kwanzaa. Dan Bradford of Relaxintuit.com explains, "How many people on your holiday gift shopping list would be thrilled to have effortless relaxation, and deep, restful sleep any time, anywhere? Every recipient fondly remembers who gave them "Your Present: A Half-Hour of Peace" Mantell's warm narration releases worry from sleepless nights, carrying listeners into an oasis from a stressful schedule, or prelude to deep, restful sleep. Listeners include The Mayo Clinic, Memorial Sloan-Kettering, The Betty Ford Center, renowned Canyon Ranch Health Resorts, and people everywhere who could just really use a great night's sleep. Bradford adds, "Tired of arriving with a ho-hum bottle of wine or cookies, like everyone else? Exquisitely packaged for personal and business gift-giving, each beautiful cover bears a gold embossed award seal, ("Best Audios Award"-- Publishers Weekly). Just tie a festive ribbon around 'Your Present: A Half-Hour of Peace," and your hosts will be genuinely grateful."
____________________________

Mindfulness meditation is a highly effective, physician recommended technique for reducing stress, enhancing sleep, and restoring inner peace. But in today's fast-paced world, who has time to learn how? Stress management expert, Susie Mantell explains, "Not all stress is about life and death --just life! Mother Nature hard-wires us with a very clever stress response system including reserves for coping with emergencies. But when we sound the alarm excessively, the body-mind literally becomes 'stressed' beyond capability." Mantell continues, "Depleted, we become more susceptible to illness, depression, forgetfulness, even pain -- resulting in a society often exhausted, anxious, achy, ill, and more than a little cranky." Susie Mantell also facilitates stress management for clients such as The Coca-Cola Company, Verizon, New York Hospital, AETNA, Ford, National Cancer Survivors Day and Canyon Ranch.
[- Awards, Honors & Testimonials-
"Best Audios Award"- Publishers Weekly
"Best Original Work" -Audie Awards Finalist
"Terrific corporate gift!" -Remington, Ann Buivid, President
"This is it--The Best!" –Canyon Ranch Living Essentials
"Superb" –The American Pain Society
"As Good As It Gets" issue –Town & Country
________________________________
A Thoughtful, Affordable Business Gift Too -
In today's challenging economy, individuals and business alike need to spend wisely. Stress being among leading health risks, wise managers know that the bottom line of any company is dependent upon the physical and emotional well-being of its employees. Like an easy chair, "Your Present: A Half-Hour of Peace," provides instant relaxation that listeners enjoy again and again. Highly effective for beginners and seasoned meditators alike, "Your Present: A Half-Hour of Peace" requires no prior training. Most people experience deep relaxation their very first time.
So many customers return to reorder copies for holiday gifts that Relaxintuit.com is offering a Special: Buy 5-- Get 1 More Absolutely Free. (Also in Bookstores: ISBN 978-09640724-1-0 $14.95)
________________________________
About Relax Intuit™ LLC (http://www.relaxintuit.com)
Based in Westchester County, NY, Relax Intuit™LLC is a highly ethical provider of acclaimed stress relief expert Susie Mantell's seminars for corporations and medical professionals, and her award-winning guided imagery meditation for relaxation, "Your Present: A Half-Hour of Peace."(CD) Mantell also provides individual stress management phone consultations by appointment. Relaxintuit.com and Susie Mantell's work are intended as an adjunct to, never a substitute for, professional health care. Visitors and clients should always consult their own licensed medical and mental health professionals regarding any practice or suggestion that might in any way affect an individual's health or safety. Twitter @relaxintuit