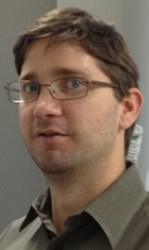 "I have known Josh for over ten years – all the while hoping for the opportunity for us to work together" said Jim Lewis, Founder and CEO at ERS. "Josh's skill set and experience will further increase the value of our offerings."
New York, NY (PRWEB) December 04, 2012
Josh Coughlin has accepted the CTO position at Enhanced Retail Solutions (ERS), a top provider of solutions to suppliers of the retail industry for use in analyzing their products' retail sales and trends as well as improving inventory productivity.
Josh's experience revolves around the apparel industry, a key market for ERS. He was the lead developer and business analyst for Sales-Aware, an SAAS company that provided services and software, also for Retail Analytics. As such Josh created databases, web-based applications and ASP reports for leading apparel companies such as Haddad, Mamiye, Vandale, Best Brands, C-Life, Regatta, Cayre Group, One Step Up, Isfel Company, Fortune Casuals, Guess, Babytogs, Lollytogs, and Adjmi.
More recently Josh worked for an apparel company supplying mass and mid-tier retailers as VP of Operations in charge of Logistics, Product Development and Production Cycle.
"I have known Josh for over ten years – all the while hoping for the opportunity for us to work together" said Jim Lewis, Founder and CEO at ERS. "Josh's skill set and experience will further increase the value of our offerings."
About Enhanced Retail Solutions LLC
Enhanced Retail Solutions is a New York based software and consulting firm specializing in retail analysis and Demand Planning for the manufacturer and their retail partners. ERS' state of the art software tools and consulting deliver critical data quickly, easily and cost effectively, adding over one hundred million dollars to their clients' bottom line. ERS' broad customer base includes industry leaders in the Apparel, Footwear, Home Textile, Toy, Home Décor, Home Improvement, Electronics, Consumer Products, Housewares and Food Industries. For more information, visit http://www.EnhancedRetailSolutions.com.