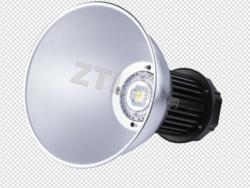 (PRWEB) December 08, 2012
The Chinese leading LED light manufacturer– Zhongtian Lighting launches an energy efficient lamp for large area lighting – 150W LED high bay light which provides high brightness and superior light quality. The 150W high bay is composed of many LED emitters and its appearance is similar to traditional high bay lighting, but it has higher efficacy. Besides, the150W high bay light has the advantages of energy efficiency, long life time and easy installation which can replace mercury vapor lamp or HPS (high pressure sodium). It is widely used to illuminate warehouses, retail floors, manufacturing facilities, gymnasiums, data centers, and a variety of other commercial and industrial spaces. The following is its technical specification:
Model: ZT-HB-1-150W
Rated power: 150W
Lamp beads: 1 piece
Net weight: 8.9kg
Housing material: pure aluminum shell and light alloy
Input voltage: 85-264VAC/DC,50-60Hz
Power factor: 0.90
Beam angle: 45, 120 degrees
Luminous flux: 18000lm(warm white), 20250lm(neutral white and cool white)
Average illumination: 430lux @ 6.0M, 247lux @8.0M,162lux @10.0M
Color rendering index: 75±5Ra
Color: Warm white/White/Cool white
Color temperature: (3000K-3500K),(4000K-4500K), (5500K-6500K)
Working temperature: -20℃ - 45 ℃
With the integration of optical design, mould tooling, and mass production in house, Zhongtian Lighting is able to offer its customer's high quality led bay lights to meet the rapid demands of the lighting industry. So far it has developed the optical solutions for various types of applications, such as commercial lighting, architectural lighting, stage lighting, street lighting, high/low bay lighting, and railway lighting and so on, more than 100 types of standard optics, available with different beam patterns according to different requirements. Zhongtian Lighting's advanced technology ensures a lightweight and excellent heat dissipation solution. Designed to replace conventional lighting in a wide variety of rugged applications, the IP-66 rated high light output gives it a stable performance.
Zhongtian Lighting is engaged to providing energy-efficient and affordable solution, so that cater to today's lighting needs. For more information, please visit http://www.chuangled.com/Led-bay-light.html.