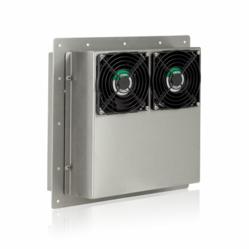 "When the temperature inside the enclosure falls to a point that might be damaging to electronics and sensitive gear, the heater automatically turns on. Operating temperature is automatically optimized regardless of the environment."
Warminster, PA (PRWEB) December 03, 2012
EIC Solutions, Inc., a leading manufacturer of thermoelectric air conditioners, electronic enclosures and transit cases, now offers a heating option for EIC thermoelectric air conditioners used in their electronic/electrical enclosures. For applications in deserts and other environments with wide variations in temperature, the addition of the EIC heater assures protection of devices and electronics that are sensitive not only to heat and cold, but also to condensation and the resulting danger of corrosion. The heater is fully integrated into the air conditioning unit and control system -- no dimensional changes to the transit case or enclosure are necessary.
The heating function is automatically activated when the internal temperature of the enclosure falls below 45 degrees Fahrenheit. Shut off is at 55 degrees Fahrenheit. The heater is controlled by an independent thermostat and no settings or adjustments are required. EIC also offers an optional digital temperature controller. The heater is UL recognized and CSA Certified.
"When the temperature inside the enclosure falls to a point that might be damaging to electronics and sensitive gear, the heater automatically turns on," said Dave Bates, EIC Operations Manager. "This makes the heater option ideal for situations where the air conditioner is cooling the enclosure contents for most of the day, and then at night the temperature dramatically drops. Operating temperature is automatically optimized regardless of the environment." Bates said the heaters are constructed from corrosion resistant Type 304 stainless steel giving them the durability and longevity needed in harsh environments. According to Bates, the heater option does not interfere with the ease of installation and operation of the EIC units.
EIC installs single 100W heaters or multiple units based on the size of the air conditioner. For example, small systems (200-400 BTU) would require only a single heater whereas larger units (2500-3200 BTU) would include eight 100W heaters, all seamlessly integrated into the system. Thermoelectric cooling units do not use a compressor, refrigerant or filters, and there are no moving mechanical parts other than fans. This means that the addition of the heating option results in a low-to-zero maintenance system for use across a wider temperature range than systems without the heater option.
Made in the USA, EIC air conditioned electronic enclosures and transit cases protect controls, computers, cameras, telecom equipment and other electronic/electrical gear from particulate contaminants, oils, water and most other environmental hazards. The weather-tight units are built to NEMA standards and can be equipped with a cooling and heating system for total control over cabinet interior temperatures. Besides heaters, a variety of other air conditioner options are available from EIC including digital temperature controllers, rain shrouds, drip pans and tamper resistant packages. Enclosures may be fitted with mounting feet, "drop-in" rack mount brackets, insulation or a polycarbonate view window.
For more information about thermoelectrically cooled EIC enclosures and transit cases with heating option please contact EIC Solutions, Inc., 700 Veterans Way Ste. 200, Warminster, PA 18974 USA. Phone: 215-443-5190. Fax: 215-443-9564. email: info(at)eicsolutions(dot)com. Or visit the EIC web site at http://www.eicsolutions.com.
About EIC Solutions, Inc.
EIC Solutions, Inc., is a leading global provider of cooling and protection solutions for electronics and equipment. Since 1988, EIC has specialized in the design and manufacture of thermoelectric cooling systems for a wide range of applications in many markets including industrial, commercial, military and defense, security and surveillance, oil and gas and infrastructure markets. EIC thermoelectric air-conditioners, air-conditioned enclosures and air-conditioned transit cases meet application requirements for housing and cooling electronics and equipment -- both stationary and mobile -- in harsh indoor as well as outdoor environments. In addition to pre-packaged solutions, EIC can create custom engineered products designed to meet unique application needs. Flexible production capabilities enable EIC to provide standard and custom solutions for orders ranging from a single piece up to large-scale production rollouts. EIC's customers include Fortune 100 companies, all branches of the military and government agencies.