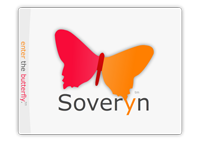 Anderson, IN (PRWEB) December 11, 2012
More so than ever before Americans are shopping online for the holidays, and many new businesses are following this trend by skipping the brick and motor location and, instead, starting out with a website. These budding entrepreneurs are able to market to their audience in less time than ever thanks to simple-to operate ecommerce website platforms.
Soveryn, Inc. released their new state of the art platform just last week that allows small businesses to get up and running for the holidays. The platform is 100% customizable, allowing business owners to create a website design exactly how they want it, without having to know how to code. They put in their products and all contact information and Soveryn works with them one-on-one to design the site exactly how they want it, allowing small business owners to be up and running in less than a week. What's great about the 100% customization is that templates are a product of the past; never will any site look like someone else's.
Soveryn was created in 2005 by CEO Mike Kersey, with the sole purpose to help small businesses around the United States. Operating out of the Flagship Enterprise Center (FEC) just north of Indianapolis, the company has built up a clientele of retailers from across the country by offering software services that provide innovative ecommerce functionality. "Our service is a state of the art cloud offering" says Kersey.
One of Soveryns newest clients, Warner Press, is getting ready to launch for the holidays. After selling hard copies of their books, lesson plans, and CD's for years, they'll be moving them to e-copies available for download on their new site (trifirekids.org). Kevin Spear from Warner Press said, "As a children's ministry worker, I know how hard it can be to find the right piece of art or classroom aid to teach a Bible story. Frequently, I turn to the internet to find something that will bring my lesson to life. Soveryn is helping us reach children's ministry teachers to equip them with the resources they need up to the last minute."
For more information, visit http://www.soveryn.com or contact Chris Bourgea at (317) 496-7167 or email chris.bourgea(at)soveryn(dot)com.