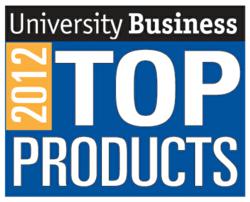 We are honored that our customers have recognized our contributions to their success through their nominations
Boston, MA (PRWEB) December 04, 2012
iLab Solutions Core Facility Management Software has been selected as a University Business 2012 Readers' Choice Top Product. The winners were selected by the editors of University Business from nominations submitted by the readership of the magazine, and were based on both the quantity of nominations and the quality of reader descriptions.
The complete list of products have been announced online and in the December issue of University Business magazine.
iLab Solutions provides a web-based platform that helps scientific shared resources with equipment scheduling, project management, billing and report generation. iLab is the leading provider of core management software, serving 50 academic research institutions in North America and Europe and reporting 100% revenue growth for 2012. "We are honored that our customers have recognized our contributions to their success through their nominations," says iLab CEO Tad Fallows. "We believe that our company's success is directly tied to that of our customers."
The first annual University Business Readers' Choice Top Products award recognizes leaders in the higher education industry and provides university leaders and administrators with the unique opportunity to learn what products their colleagues around the country are using, and how these products contribute to the success of their schools.
"We are pleased to announce the first-ever University Business Top Products list and plan to make it a yearly feature," says University Business Editor-in-Chief Tim Goral. "The nominations came from a variety of university administrators who have shared their experiences with these products and how they have improved the way their school operates. We hope their insight becomes a valuable resource to our readers and helps them solve their biggest challenges on campus."
About iLab Solutions
iLab Solutions is the global leader in providing web-based core facility management services to academic research institutions. The functionality includes request management, equipment reservation and usage tracking, project tracking, billing and invoicing, and reporting. iLab has extensive experience providing enterprise-level solutions at major research institutions, including integrations with institutional financial systems (e.g., SAP, Oracle, PeopleSoft, Lawson, Banner, IFAS, etc.) and identity management systems (e.g., Active Directory, LDAP, Shibboleth, etc.) iLab's dedicated implementation team and full customer support result in high adoption rates. Over 400 core facilities across more than 45 institutions in North America an Europe rely on iLab, including universities, hospitals, independent institutes, and government labs. For more information, visit http://www.ilabsolutions.com
About University Business
University Business is the most widely received, most regularly read publication for higher education leaders at two- and four-year colleges and universities nationwide. UB provides cutting-edge coverage of higher education technology, news, finance, policy, profiles and more to this exclusive audience across print, digital and in-person event platforms, including the annual higher ed technology conference, UBTech. Independent surveys have proven that year after year, no other higher education management publication matches the reach, readership and audience engagement of University Business. For more information, visit http://www.UniversityBusiness.com.
iLab Solutions contact:
Alicia Cravens
Marketing Manager
iLab Solutions
alicia.cravens(at)ilabsolutions.com
University Business contact:
Tim Goral
Editor-in-Chief
University Business magazine
tgoral(at)universitybusiness.com