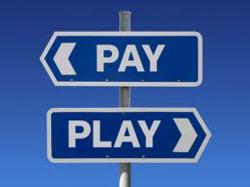 (PRWEB) December 02, 2012
Zane Benefits, the leader in Defined Contribution Healthcare, Health Reimbursement Arrangements (HRAs), and Private Exchanges, today published information for employers deciding whether to "pay" or "play" under health reform.
Employers, human resource departments, and business consultants of all sizes are trying to wrap their heads around the Affordable Care Act (ACA) and what it means for their bottom line. One of the key questions employers with more than 50 employees should begin asking themselves is, "should I pay or play?"
To summarize this in the most basic terms, the ACA includes an employer penalty, which an employer with greater than 50 full-time equivalent employees (FTEs) is required to pay, if they choose not to offer "qualified" and "affordable" health insurance to employees. If an employer does not "play" by meeting the minimum requirements of offering "qualified" and "affordable" coverage employer penalty, then he or she will have to "pay" a penalty.
According to the health reform bill, "applicable large employers" must offer "essential health benefits" that is "affordable" to employees. In order to determine whether it will be best for your business to pay or play, you'll first want to have a good understanding of these three concepts:
(1) Applicable Large Employers – If a company employed an average of 50 or more full-time equivalent employees during the previous calendar year, it is considered an applicable large employer for the current year.
(2) Minimum Essential Health Benefits (EHB) – These are a set of health care service categories that must be covered by certain plans starting in 2014. These will vary by state, and will be finalized by each state's Department of Insurance.
(3) Employer Tax Penalty - If an applicable employer decides not to offer the minimum EHB by 2014, the employer may have to pay a penalty. Read how to calculate the business tax penalty here.
SHOULD AN EMPLOYER PAY OR PLAY?
To determine whether an employer should pay or play, the employer should set up cost-benefit analysis comparing the cost of paying the tax penalty and offering a health reimbursement arrangement (HRA) to the cost of playing by the rules of the plan and providing affordable, Essential Health Benefits.
Read the full article about employers and health care reform to learn how to:

Perform a "Pay or Play" cost-benefit analysis
Will it be better to offer health insurance or an HRA?
How to Calculate Full-Time Equivalent Employees (FTEs)
How to calculate the employer tax penalty
Key employee tax issues such as subsidies
Subsidy calculator
- - - -
About Zane Benefits, Inc.
Zane Benefits, Inc, a software company, helps insurance brokers, accountants, and employers take advantage of new defined contribution health benefits and private exchanges via its proprietary SaaS online health benefits software. Zane Benefits does not sell insurance. Using Zane's platform, insurance professionals and accountants offer their clients a defined contribution plan with multiple individual health insurance options via a private health exchange of their choice.