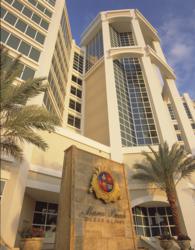 The Marco Beach Ocean Resort is pleased to announce that it is ranked as the #1 hotel on Marco Island, Florida
Marco Island, FL (PRWEB) December 05, 2012
The Marco Beach Ocean Resort is pleased to announce that it is ranked as the #1 hotel on Marco Island, Florida, in the TripAdvisor Popularity Index rankings. The rankings are listed on the world's largest travel site featuring reviews and advice on hotels, resorts, flights, vacation rentals, vacation packages and travel guides.
As the number one hotel on Marco Island, the Marco Beach Ocean Resort overlooking the Gulf, is one of the most popular choices for visitors to Southwest Florida and the nearby Everglades and Ten Thousand Islands. Comments and reviews of the hotel contributing to its #1 ranking included "the rooms were immaculate," "can't wait to go back," "it was truly amazing," "staff was very attentive," and "this was the best choice hotel that I have ever picked."
Marco Beach Ocean Resort is an all-suite, boutique resort hotel located near world-class golf and recreation. All suites feature a kitchen and balcony with views of the shimmering Gulf of Mexico or garden terraces. Each of our beach accommodations on Marco Island offers marble showers with seamless doors and vanity tops, luxurious bed linens, live orchids, multiple telephone lines and cordless phone, iPod docking station and keyless entry.
From the moment guests are greeted beneath the porte cochere and enter the beautiful Mediterranean-styled lobby with its original art and antiques, and then venture out to the sugar-sand beach and azure waters of the Gulf of Mexico, they know that their visit to the Marco Beach Ocean Resort will be nothing less than extraordinary.
Marco Beach Ocean Resort features a variety of dining options including the Beachfront Bar & Grill and authentic Italian cuisine at the award winning Sale e Pepe restaurant, a spa and fitness center, amenities, a sparkling pool, white sand beach and nearby golf perfect for a getaway, wedding or meeting. The resort's Concierge and the highly-trained international service staff accommodates personal tastes and regularly exceeds expectations. Marco Beach Ocean Resort is enjoyed by resort guests, locals and members of The Tarpon Club at Fiddler's Creek, who have the opportunity to enjoy a beach and boating lifestyle so precious to those who live in the Naples/Marco Island area. Fiddler's Creek residents also enjoy The Club & Spa amenities and have the opportunity to join The Golf Club, ranked in Golfweek's 100 Best Residential Golf Courses in the country for the eighth consecutive year.
Fiddler's Creek community is located off of Collier Boulevard on your way to Marco Island. For information, please call (239) 732-9300 or visit http://www.fiddlerscreek.com.
For more information, or to make a reservation at Marco Beach Ocean Resort, please visit http://www.marcoresort.com or phone 239-393-1400; 800-715-8517.