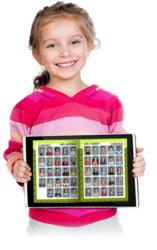 (PRWEB) December 13, 2012
Milwaukee, WI: Yearbooks To Go helps schools convert their yearbook to multiple electronic versions formatted for download to all popular mobile devices including iPad/iPhone, Kindle, Nook, Android and Kobo.
The accelerating increase in tablet and Smartphone ownership is well documented. Now students and parents will be able to easily take their school yearbook with them wherever and whenever they have their favorite mobile device.
Tablet ownership in the United States has grown from an estimated 28 million users in 2011 to an estimated 117 million users projected for 2013. Smartphone ownership in the U.S. is already over 120 million users and continues to grow rapidly as more people convert from earlier "dumb" phone units. The printed yearbook will continue to play an important role in the archiving of children's school experiences but now parents have the choice to preserve those experiences in electronic form, printed form or both said Yearbooks To Go's President Mike Limbach.
Yearbooks To Go offers mobile yearbooks formatted for all popular devices including iPad/iPhone, Kindle, Nook, Android and Kobo. Users simply enter their assigned school code and choose from a list of device types to download their school's yearbook. Each device type has unique functionality and, in our testing, we found it was important to users that their yearbook take advantage of that functionality said Limbach.
During its quarterly earnings call in July, Apple announced that it sold 1 million iPads to U.S. schools, doubling its iPad sales to schools during the same quarter a year ago. The transition to tablet-based learning and textbooks is accelerating and school administrators view mobile yearbooks as another option that positions their school at the forefront of technology and adds value for their families.
Yearbooks To Go will offer mobile yearbook conversion services directly to schools and on a commission basis through Professional School Photographers. School photographers benefit by working with Yearbooks To Go in two ways. First and foremost, they can add another meaningful income stream to their business. Second, all photographer partners are included on our searchable National Map for schools looking for a new photography provider said Limbach.
Schools and Professional School Photographers interested in learning more about Yearbooks To Go can visit http://www.yearbookstogo.com , email sales(at)yearbookstogo(dot)com or call 888-908-5561. Yearbooks To Go will also be exhibiting at the Professional School Photographers Association (PSPA) and School Photographers Association of California (SPAC) trade shows in January.