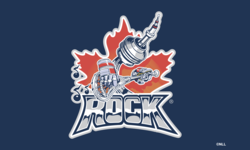 The tower logo was used by the Rock from 1999 to 2002
Toronto, ON (PRWEB) December 14, 2012
With the hockey season at a standstill, Canada's second national sport, lacrosse, is getting some more attention, and Canadian flag maker House of Flags & Banners Ltd. is not complaining.
House of Flags & Banners has been selected for a second term as an Official Licensee for the National Lacrosse League, in the manufacturer and distribution of Officially Licensed flag & banner merchandise.
"Most people think hockey when they think of Canada, but in actuality, Canada's first sport was lacrosse, originating back in the 17th century from the Natives," says Arif Dewji, CEO of House of Flags & Banners.
Although 6 of the 9 teams in the NLL are in the United States, 75% of the players are from Canada with a large portion of them coming from within 100 miles of Toronto.
"This year we are releasing a vintage flag for the Toronto Rock called 'The Tower,'" says Arif. The Tower logo was used by the Rock from 1999 to 2002. The Tower Flag features a refreshed version of the Tower logo set on a dark navy blue background. "Being born in Toronto, it's a humbling experience to be a part of this flag being released. I'm looking forward to another great season cheering for the Rock."
The full line up of Officially Licensed NLL Products offered by House of Flags & Banners can be seen at http://www.houseofflags.com/nll.
House of Flags & Banners Ltd. is a 100% Canadian owned & operated company specializing in the manufacture and distribution of flags, banners, flagpoles, windsocks, banner stands, promotional canopies & tents, custom displays & signage.