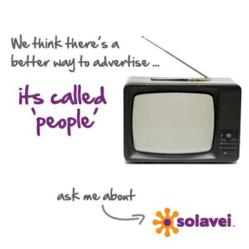 Paying their associates $20/month for Trios, and up to $20,000/month for Path pay, Solavei is creating lots of Thousandaires.
Dallas, Texas (PRWEB) December 05, 2012
Solavei has officially entered its third month in the very competitive marketplace of wireless phone service. The growth of the company and individual teams have been phenomenal to this point. For many that don't know what Solavei is, Solavei is a unique wireless service provider that uses a direct selling model through network marketing to sell their phone service. So what does that mean and what is big buzz around Solavei? This means Solavei has created a business model that allows their customers to share the word of Solavei service among family, friends, and social media to earn money on a monthly basis. This is a great thing since Solavei does not have to spend billions of dollars on traditional marketing, as well as, customers are making extra money. Solavei not only offers money earning opportunities, but ultimately saves their consumers money by offering a $49.99/month unlimited talk, text, and 4G data service plan. No matter the location: Miami, Dallas, Atlanta, Chicago, Las Vegas, Phoenix, Los Angeles, or New York, Solavei has it covered. Utilizing the T-Mobile cell towers as their backbone, Solavei's 4G LTE service is broad across the United States and growing. Offering such promotions as "Your first month free" Solavei is gearing up for the holidays and will be celebrating their 3-month birthday on December 21, 2012. As mentioned, Enroll in the month of December and receive the first month free.
Many people are very intrigued with the savings Solavei offers. That is just the tip of the iceberg. How does no annual contract sound? Customers can bring existing phons. Yes, this is a reality. Solavei runs off the GSM cell market and can host any GSM cell phone as long as it has a sim card. This is intriguing to many people that would like to switch to a cheaper service and utilize their current phone. As Solavei evolves, their capabilities do as well. Growing internationally (Puerto Rico currently), Solavei now offers long distance calling to over 200 international countries.
How is money made? As mentioned, Solavei does not spend Billions of dollars every year on advertising like big wireless companies (At&t, Verizon, or Sprint) do. Instead, they utilize network marketing and/or multi-level marketing to advertise. Paying their associates as much as $20 per month for every Trio (3 people) they enroll and as much as $20,000 per month for path pay bonuses, Solavei has created a plan to create a million thousandaires. To sweeten the pie, Solavei offers Fast action bonuses and path pay bonuses to really incentivize their associates to market their service.
Team America is comprised of tenured sales professionals that are utilizing the latest in social networking to build their own companies and Solavei. Team America is constantly looking to add more team members and help them make thousands. It is possible to make $1,000 every month just by sending out a few tweets, Facebook messages, or calling your family members. To be a part of Team America's easily replicated marketing plan visit the website now. A turnkey business is right around the corner. Happy Holidays.