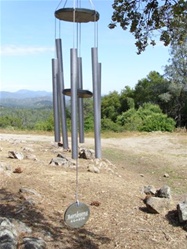 Christmas gifts come and go but our products last long and are American made.
Portland, Oregon (PRWEB) December 01, 2012
Eco Wind Chimes sells wind chimes all year long. However, the American wind chime company is offering a 10-year guarantee on its Grace Notes Wind Chimes collection. The wind chimes start at 21 inches and get as large as 84 inches. Grace Notes Wind Chimes are different because they don't use toxic by-products, the company uses superior grade harmonic aluminum tubing, and each wind chime comes with a 10-year guarantee.
"My company, with Grace Notes Wind Chimes, guarantees the products up to ten years, but they are really designed to last a life-time," said Stephen Betzen of Eco Wind Chimes. "Christmas gifts come and go but our products last long and are American made. I think these factors are important to consumers in today's market place!"
According to Google, there are over a million websites dedicated to wind chimes. "Christmas presents should reflect the receiver's personality and also the relationship with the giver. A long-lasting gift is a symbol of respect and longevity," continued Betzen. Grace Notes' Earthsong Slate Wind Chimes are currently listed on Eco Wind Chimes' website for under forty-dollars and are delivered free of shipping and handling costs. A photo and chime tune sample can be accessed by clicking here: http://www.ecowindchimes.com/Slate-Earthsong-Wind-Chimes-p/1lgns.htm
About: About: Eco Wind Chimes was launched in 2005. The soothing products produced by Eco Wind Chimes match the company's dedication to quality workmanship, affordability, and purposeful retail. All Eco Wind Chime products are made, and sourced, in the USA. More information, and a media kit, can be found by clicking here: http://www.ecowindchimes.com