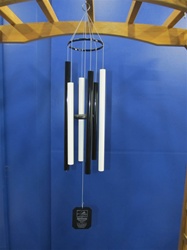 We want wind chime lovers to feel accepted and rewarded when visiting the company's website.
Kentucky (PRWEB) December 06, 2012
Eco Wind Chimes is launching its free shipping and handling campaign for orders over $150 dollars. From now and until December 15th , people who order a wind chime gift through http://www.EcoWindChimes.com will be automatically qualified for free shipping and handling when they spend the minimum purchase amount. The promotion is currently running and helping people shop for Christmas from the ease of their homes or offices.
"Shipping costs can detour someone from ordering online, but we are different" said Stephen Betzen of Eco Wind Chimes. "We want wind chime lovers to feel accepted and rewarded when visiting the company's website. This is the reason we decided to offer free shipping for the 2012 holiday season!"
One of Eco Wind Chimes' most popular products is the Piano Wind Chime. This chime is stately decorated in traditional sleek black and glamorous white metal tubing. The chime dangles thirty-six inches long and rings an E-minor tone. The Piano Wind Chime is from the company's Grace Notes collection, which is considered the most musical of all wind chime products. A photo and chime tune sample can be viewed here: http://www.ecowindchimes.com/Piano-Wind-Chime-Small-p/1s-mmx008.htm
About: Eco Wind Chimes was launched in 2005. The soothing products produced by Eco Wind Chimes match the company's dedication to quality workmanship, affordability, and purposeful retail. All Eco Wind Chime products are made, and sourced, in the USA. More information, and a media kit, can be found by clicking here: http://www.ecowindchimes.com