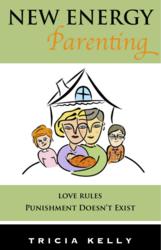 Overly controlling parents - create their out of control kids.. time to lighten up!
LOS ANGELES, CA (PRWEB) December 03, 2012
Kelly's book explains what was recently on Sixty Minutes but one step further. Their 11.18.12- 'Baby Lab,' segment explained their findings - babies are born with their moral compass in place. Kelly's New Energy Parenting book calls their first language, God's language - It is the Language of Feeling. It feels good or it doesn't. Kelly explains that this is the most important language one needs to watch when raising kids through to their college years - how they feel and their emotions says it all, and it's often created by the way you parent them.
Ms. Kelly, who in addition to her many professional achievements, which she considers her chapters in life, has raised a daughter as a single mother without the need to ever punish or control her with discipline and rules. After years of research, study, and observation, she decided to release this information in her non-fiction book, NEW ENERGY PARENTING. The information is the opposite of what most traditional therapists advise parents to do, which is to discipline their children by putting them on naughty chairs, time outs, and participating in other cruel behaviors enforced by their parents.
"What is happening within the school systems is headed in the wrong direction and desperately needs to be changed. To isolate a child using methods like darkened 'padded rooms' and also electric shocks, is archaic and only raises children who will rebel even more."
As a conscious parent, Kelly sees these actions as those of an abusive. To dominate another 'soul' at any age with cruelty is nothing more than acting as an overly controlling human being, and they do nothing more than manufacture more 'out-of-control kids and teens.' Her research also lead her to understand why families and many people don't reach their goals or manifest their dreams, money and more, by studying the habits and attitudes of those who live this way. As a dynamic and effective public speaker, Kelly shares her insights with audiences worldwide on the various radio shows because this is the time of the great awakening, changing the old ways of thinking, and with thirty years of experiences, she is sharing her own miracles and her own road blocks to others.
"Over the last few decades, I have discovered the main ingredient missing, and why it is important for families to be in harmony if they want to manifest their dreams. It is nothing more than the simple changes needed to be made in the way people think and speak to others. This new information allows one to expand their energy, which is inherent in each of us," Kelly explained. "This profound shift in attitude is key to staying healthy and wealthy, and manifesting your long-held goals. Your success in life, is the journey of your inner being, and developing your higher mind, more than your outer professional being which you show to the world." That in itself is a false identity. People are much more intuitive these days, and are able to reading another's energy. This is what the Baby Lab research revealed on Sixty Minutes. It is our emotional feelings that attract us to another, not the clothes we wear to impress another.
Kelly's positive methods are creating a buzz, and what others are saying: "Tricia has the Midas touch and was a fun and motivating guest," stated Hazel, on her internationally known Lizzy Star's radio show. "She delivered information in a way that anyone can understand, and her insights from her book touches on subjects that many fear to treat. She is an expert in this area of consciousness and understanding spirituality in a new way."
Tricia Kelly has also authored other books that explain the many hidden events, concepts and more about our past in, The StarSeeds; Beyond Time. It is similar to what all the new age speakers, authors, radio show hosts, and leaders have been saying about this time of change, and this rise in consciousness This expansive market is growing because of this evolution of people wanting and seeking a new way of looking at life. It is collectively growing at a rate of 30% a year for this reason.
Kelly's publishing company. http://www.lightenupbooks.com publishes the numerous books offered by Kelly. She notes that one of the biggest problems in America today is the lack of uplifting information that advances one's personal enlightenment and explains the mysteries and magic of this universe. Most of our entertainment does nothing more than limits one's miracles and holds them hostage in fear and limitation. One cannot reach their own great highs in mediation and become a multi dimensional being if their energy is being diminished with images of fear and destruction. Kelly also knows positive thinking will allow anyone to avoid or overcome these stressful and doubtful times.
About 'Daphne Goes Blue,' another one of her projects.
This is just another example of Kelly's talent. She wrote a kids book about the ocean, all the environmental problems, the importance of working together, and friendships. It is a book that will keep on giving. A percentage of profits goes to the smaller organizations that help our marine life when they are in trouble and lack the funding from the large corporate sponsorships. She welcomes kids to participate on Facebook and make their suggestions too. All our small changes to make a big difference.
To learn more, or to book Tricia Kelly for a speaking engagement, visit http://www.triciakelly.net or email Kelly at info(at)triciakelly(dot)net
Contact:
Tricia Kelly, Lighten Up Book
http://www.newenergyparenting.com
http://www.lightenupbooks.com