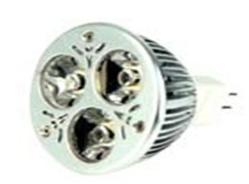 (PRWEB) December 10, 2012
Apart from other kinds of LED lamps, 6W high quality [ZT-M16G5.3-311B] spot light is introduced by Zhongtian Lighting, a top led light supplier in China. It is used to replace those old, high energy consumption and low luminous efficiency lamps. In addition, it is widely used in supermarkets, hotels, taverns, exhibition halls, discos, singing halls, meeting rooms, show windows and so on. The information below is its technical specification:
Model: ZT-M16G5.3-311B
Shade dimension: D49.5*H50.5 mm
Rated power: 6W
LED quantity: 3pcs
Housing material: high-precision aviation car aluminum
Net weight: 40g
Input voltage: 12VAC/DC,50-60Hz
Efficiency: >0.90
Luminous flux: 160lm(warm white), 220lm(neutral white and cool white)
Viewing angle: 15/18/30/45/60 degrees options
Color rendering index: 75±5Ra
Color: Warm white/White/Cool white
Color temperature: (3000K-3500K),(4000K-4500K), (5500K-6500K)
Working temperature: -20℃ - 45 ℃
Luminous efficiency: >70lm/w
The spot is a state-of-the-art LED spotlight that can be used to accentuate objects in the home with 'warm white' and is available in different wattage variations. Such LED spotlights add beauty to any environment where they are used. Another advantage is that instead of the traditional MHD (Metal Halide) lighting, the LED spot light can be switched on and off and on again, without having to wait for them to cool down first. Instant light and superb lighting quality! Because of its high efficiency, this LED system makes it possible to obtain considerable savings in energy consumption while providing great lighting quality.
In addition to energy saving and environmental protection, LED spot has many "special function". It can adjust the color and brightness according to the demand, for example, you can change with the mood. Thus, the bedroom light is sometime yellow, sometimes green and sometimes pink. Furthermore, because the LED built-in controller chip, consumers can even achieve the operation of the wireless remote control home lighting, before going home early to open the living room lights.
The company makes improvements to the thermal design so that it becomes possible to efficiently release heat from each component of the power supply circuit inside the heat sink. Zhongtian Lighting wants to bring more benefit to customers and build a green environment by manufacturing more LED spot lights of good quality, which accelerate its self-development in turn.
For more information, please visit http://www.chuangled.com/LED-Spot-Light.html.