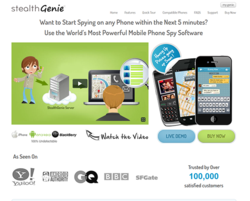 A large number of customers said they wanted an WhatsApp spy and wanted to monitor iMessage conversations
(PRWEB) December 06, 2012
Just a few months after totally revamping their website and upgrading their software, cell phone monitoring app makers StealthGenie have added 2 brand new features to their already impressive list of monitoring features. In addition to monitoring regular SMS messages and BBM conversations, StealthGenie will now also provide users with the ability to monitor WhatsApp and iMessage conversations.
StealthGenie has made a habit of coming up with new features and adding innovations to their application. Now that they've added iMessage spying and WhatsApp monitoring to their list of features, they cover all avenues of communication that can be done through a cell phone. Amanda Wade, the head of marketing at StealthGenie, tells us about how StealthGenie is able to churn out new innovations every few months: "When our app is working fine, our team doesn't just sit back and relax. We keep doing research on what features our users want and how we can include them into StealthGenie."
According to Eugene Schmidt, who manages customer services at StealthGenie, "A large number of customers said they wanted an WhatsApp spy and wanted to monitor iMessage conversations so we felt we had to give them what they were asking for and got our developers on it straight away. Just a few weeks down the line and we now have support for both text services; our customers love it." The customers truly do love it as message boards are filling up with people excited about being given extra features that will let them really monitor their loved ones.
The way the features work is simple. Users simply log in to their StealthGenie control panel and they can see all the WhatsApp and iMessage conversations of the monitored phone along with the IM names and numbers of the participants. If the monitored user downloads an image, video or audio clip through either messaging service and saves it on to their phone, the StealthGenie user can also see these through the respective section on their online control panel.
StealthGenie has made a habit of coming up with new innovations every few months and users are pleased that an app that they've bought is continuously improved upon and more value added to it. Just like the many users of the app, we are also looking forward to what bold step StealthGenie takes next.
StealthGenie is a cell phone monitoring application that can be installed into any iPhone, Android or Blackberry phone where it works secretly in the background to provide cell phone usage information that can be accessed by logging into an online control panel. Visit http://www.stealthgenie.com for more information about the application.