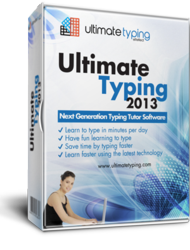 Ultimate Typing is their answer to the growing demand for fast typing tutorials.
New York City, NY (PRWEB) December 01, 2012
Speed typing has quickly become one of the most valuable skills of any person who has ever had to deal with a computer-related task. Simply put, familiarity with the keyboard is practically the same as a cab driver knowing the ins and outs of the city streets. It's a way to navigate the computer, and it's also the most basic capability that a person should have before "getting behind the wheel" of the computer.
To continue with the driving analogy, think of a race car driver, who is practically at one with the car they're driving. This well-learned and unconscious skill lets them drive their car at speeds most people wouldn't ever dare to reach. With speed typing, like speed racing, the goal is to combine the efficiency of the computer with the skill of the human user.
For eReflect, this skill is so important that the company decided to create a comprehensive program to teach touch typing skills. They wanted to create software that could be made available to anyone who wants to increase their typing speed to 70, 80, or even 90 words per minute (or more!). Ultimate Typing is their answer to the growing demand for fast typing tutorials.
It's not surprising that people who have to handle daily secretarial tasks are going to benefit a whole lot from speed and touch-typing skills. However, in today's fast-paced world, basically anyone who ever makes use of a computer can definitely make use of this particular skill.
In fact, more often than not, employers are looking closely at every job applicants' typing skills. That's because typing speed has more or less become a gauge of how efficient a person can be at work. If an employee will be spending a full minute typing up only 25 to 30 words, then obviously, time management is not being maximized and office productivity goes down.
Those who do apply speed and touch-typing skills to their daily work, however, have a lot more time on their hands to show what else they can do for the company. For this reason alone, even currently slow typists should rejoice, because they can use Ultimate Typing software to develop those crucial typing skills needed to help them succeed.
For more details on Ultimate Typing, go to http://www.ultimatetyping.com/.
About Ultimate Typing
ULTIMATE TYPING SOFTWARE is a tutorial program designed specifically for the improvement of typing skills. It was created by eReflect, a world leader in e-learning and self-development software.
Since its creation in 2006 by its director, Marc Slater, the company has already catered to over 112 countries all over the world, offering products with the latest cutting-edge technology, some of which are among the world's most recognized and awarded in the industry.