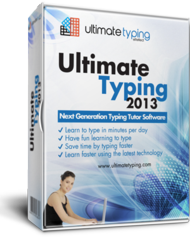 With their latest product, the company wanted to address the needs of those with poor typing skills and provide them with a thoroughly efficient solution.
New York City, NY (PRWEB) December 04, 2012
Today, Ultimate Typing announced the release of a touch typing tutor which uses 7 strategies for typing practice. Informed by the most up-to-date technological innovations and research, Ultimate Typing guarantees its users fast and accurate typing skills.
Ultimate Typing is the brainchild of eReflect, the company whose other award-winning software programs include Ultimate Memory and 7 Speed Reading. With their latest product, the company wanted to address the needs of those with poor typing skills and provide them with a thoroughly efficient solution. Ultimate Typing includes strategies such as Adaptive Learning Technology, EasyLearn™ technology, and expert-designed activities that all focus on helping people type faster, in less time.
Although advanced and efficient, these techniques remain easy to follow and practice, and this ensures that the user learns to type correctly. The EasyLearn™ technology provides a video tutor who interacts with the learner along every step of the learning process, making sure no gaps or weak points remain. This interactive technology tracks the performance of the user, and requires that the basics are mastered before more advanced practices are attempted.
Ultimate Typing not only concentrates on lessons for typing faster, it makes sure the typing is also accurate. This is primarily achieved through the wide array of drills, exercises, and games the software has available. Accuracy is something often overlooked in other typing software programs, as most of them focus primarily on typing speed. Ultimate Typing differs in this aspect in that it persistently focuses on promoting high levels of typing accuracy in users.
The software offers a unique progress tracking system which indicates clearly the user's progress in terms of accuracy and speed. These results are then used by the software to provide a set of customized activities for the learner to practice with. Because these activities match the user's level and present needs, it keeps the training engaging and challenging for the learner, motivating them to become better. This promotes both regular practice and efficient progress, and it keeps users engaged, just like the software's developers intended.
For more information on how Ultimate Typing can save you hours of typing each month visit the official website at http://www.ultimatetyping.com.
About Ultimate Typing
Ultimate Typing™, is an advanced typing tutor software that offers incomparably sophisticated typing strategies.
Ultimate Typing™ is informed by the latest research and scientific developments about efficient typing. With as little as 7 minutes a day, aspiring fast typists can substantially improve their typing accuracy and speed.
With its user-friendly and expert-designed activities all users can improve their typing. Accurate typing is possible thanks to Ultimate Typing. Plus, eReflect provides a money-back guarantee that cannot be matched.