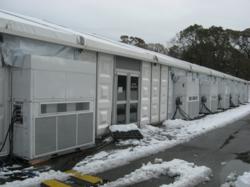 Cocoa, FL (PRWEB) December 03, 2012
Portable Air, a premier provider of generators, portable HVAC equipment and other equipment, recently announced that it has partnered with Proteus on Demand in Long Island, New York to assist with disaster recovery efforts after Hurricane Sandy. The company is helping establish a large camp for utility workers so that power can be restored to Long Island businesses and residences as quickly as possible.
Proteus On-Demand is a New York-based company that provides temporary emergency response shelter and a wide variety of other temporary structures. The 500-person camp will house and feed utility workers while they work to restore service to the Long Island Area. The camp includes mobile shower units, three sleeping tents, a dining tent and a staff tent. When the project is complete, it will also be large enough to park all of the employees vehicles.
"Portable Air is honored to help with the disaster recover from Sandy," said General Manager Dan Camp of Portable Air. "We are proud to be working with Proteus on Demand to provide temperature control and power for their 500-person camp in Long Island."
From generators and power distribution equipment to HVAC units, Portable Air offers only the best high-end equipment and services. The company provides cabling, generators, spot coolers, tents and more for weddings, sporting events, conventions, trade shows, festivals, disaster relief efforts and numerous other purposes.
Additionally, Portable Air provides a wide variety of cooling, heating and environmental products for industrial and commercial customers. For complete information about all Portable Air products and services, visit their website at http://www.portableac.com or call 1(800) 341-4297.
About the company:
Since 1987 Portable Air has been responding to the needs of businesses, government agencies, and special event planners for their temporary requirements of air conditioning, heat and power generation. We are expanding our product line and provide our customers the most complete air quality control program available from one source. Let Portable Air find the solution to your temporary needs. For more information, please visit their website at http://www.portableac.com.