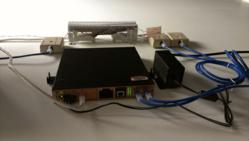 The telecom market is very dynamic and sometimes it pays to switch carriers.
Bellevue, WA (PRWEB) December 13, 2012
Four years ago Caisson Technologies, a Seattle based telecommunications consulting agency providing SMBs with a better way to buy phone and internet services, helped Global Ventures, the Northwest's Premier Mergers & Acquisitions and Management Service Company, save a ton of money on their telecom. They were paying close to $900 a month for an integrated T1 solution for their Mercer Island office. Their contract was up. A telecom analysis was performed and it was determined that XO was offering a very similar service for $492. Caisson drew up the contracts and facilitated a smooth transition.
After banking $300 per month for the last 36 months, it came time for Global Ventures to again evaluate their needs. This was prompted by two main factors, they where going to move their office from Mercer Island to Bellevue and the 1.5Mb T1 line was not providing the bandwidth they needed to support their current business applications. Global Ventures again reached out to Caisson and requested another telecom analysis. The new location in Bellevue was qualified for many different services like; cable, DSL, and EoC.
After careful consideration it was determined that GV's preferred the more robust SLA back services but they needed more bandwidth than an integrated 1.5Mb T1 could deliver. Ethernet Over Copper(EoC) with it's symmetrical SLA back bandwidth and it's ablitity to economically scale from 5 Mbps to 60 Mbps was determined to be the best fit. The market place was again evaluated and it turned out that Integra Telecom was offering the best value for an integrated 5Mb EoC service in the Bellevue area. So for $419, another $70 less than they were currently paying, they would get similar PRI voice service and 230% more bandwidth!
Caisson drew up the contracts and again facilitated the move and smooth transition.
Integra Telecom was so happy to get the customer back that they offered Global Venture some credits to help with any ETF penalites incurred.
"The telecom market is very dynamic and sometimes it pays to switch carriers" says Brian Wade, "Carrier selection, pricing and product availability can only be determined on a location specific basis."
"It pays to work with someone that has the location qualification tools and expertise to analyze your specific situation."