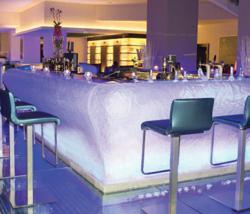 Acrylic is amazingly versatile when used in furniture...The only limitation is what the imagination can come up with.
Grand Junction, Colo. (PRWEB) December 06, 2012
In taking a cue from the architectural mantra of "form follows function," Reynolds Polymer Technology, Inc. (RPT) shows in the most recent piece of furniture that form and function can work harmoniously together when it comes to creating one-of-a-kind furniture.
This latest coffee table features R-Cast® Ice, inverted and bonded together to create an eye-catching, modern, low profile table. In fact, the use of R-Cast® acrylic in unique furniture designed by artists around the world creates eye-catching, functional pieces that double as artwork. The high gloss acrylic lends a polished, modern flair to the designs that capitalize on R-Cast® acrylic's adaptability.
"Acrylic is amazingly versatile when used in furniture," said Matt Houlihan, Vice President of Sales and Marketing for RPT. "Between the variety of products, colors, and finishes, the acrylic itself can be formed into innumerable shapes or even use our invisible bonding technique to create the appearance of seamless pieces. Plus, there's no real limitation to the size of the piece."
From one-of-a-kind tables and chairs to larger scale pieces such as martini bars, R-Cast® acrylic provides the flexibility needed for the designer's vision to come to life. With R-Cast® acrylic being structural – 17 times stronger than glass and four times stronger than concrete – and with it weighing half as much as glass, R-Cast® acrylic is more desirable than glass in this application.
"The only limitation is what the imagination can come up with," said Houlihan.
Every R-Cast® product can be utilized in furniture fabrication, including the deeply textured R-Cast® Ice product and the custom-image R-Cast® Mirage® and custom colored R-Cast® Palette® products. Designers have the option of purchasing the flat sheet and fabricating at a separate facility, or submitting the complete design for RPT to manufacture and fabricate.
To find out more about how RPT's material can work with your furniture design, please e-mail the Sales team at sales(at)reynoldspolymer(dot)com.
About Reynolds Polymer Technology, Inc.
Reynolds Polymer Technology, Inc. has completed more than 1,600 projects in 53 countries in their nearly 30 years in business. RPT is known as the leading manufacturer, fabricator, designer, and installer of R-Cast® acrylic and resin sheets. In fact, RPT is the only acrylic aquarium panel manufacturer in the U.S. Their products have been used extensively in the architectural, signage, aquarium, water-retaining, and scientific industries worldwide, including major projects in Asia, Europe, the Middle East, and South America. RPT is constantly raising the standard for what can be done with acrylic and resins. Headquartered in Grand Junction, Colorado, RPT also has operations in Rayong, Thailand. Visit http://www.reynoldspolymer.com for more information. Proud member of the U.S. Green Building Council.