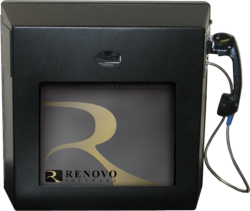 Madera's goals in implementing this new visitation system are threefold: save time, reduce costs, and improve security.
Madera, CA (PRWEB) December 03, 2012
As part of a recent expansion project, the Madera County Jail in California began offering inmate visitations via video on Monday November 5th. The new platform, developed by Minneapolis based Renovo Software, increases the efficiency of the visitation process. The new video visitation system will allow Madera to reduce costs and potentially increase visitation hours and quotas. Madera, now a 563 bed facility, is using Renovo's system to configure, manage, schedule, and automate some four hundred inmate visitations per week.
Inmate video visitations stations are located directly in inmate housing pods, while visitor video stations are located in a new visitation center. Placing the inmate video visitation stations directly in inmate housing units and the visitor stations in the lobby means officers will no longer have to coordinate the escorting of each inmate for each visit. This strategic placement significantly increases safety of officers, inmates, and visitors by all but eliminating contraband entering the facility.
Beyond safety and security, the new inmate visitation management platform can save facilities time and money. "The system is designed to allow correctional facilities to configure the software with their own unique policies, procedures, quotas, and restrictions," explained Brian Peters, Director of Customer Accounts for Renovo Software. "Every time a visit is scheduled, the inmate's location, restrictions, quota, and availability can all be taken into account automatically."
The Renovo platform will also allow Madera to adapt new visitation methods and technologies as they see fit. Online public visitation scheduling, internet video visits (a.k.a. at-home visitation), secure inmate email, and revenue generation are all components of the Renovo system that Madera can seamlessly adopt in the future if they should choose to do so. "While Madera County isn't currently offering online scheduling or visitation," Peters continued, "they have that capability with this system. If and when it is right for the jail administration, we can turn that functionality on for them."
Madera's goals in implementing this new visitation system are threefold: save time, reduce costs, and improve security. Renovo Software's visitation management platform will allow them to do just that; making the jail safer, less chaotic, and more manageable for officers, inmates, and the family and friends visiting those inmates.
About Renovo
For almost a decade, Renovo's visitation management solution has helped both large and small correctional facilities cut the chaos out of their visitation centers. With over 100 customers across the US, Renovo's visitation solution continues to introduce next generation features and functionality. With the most advanced revenue generation options of any solution on the market, Renovo helps facilities achieve maximum efficiency with minimal budgets. Whether offering on-premise video visits, internet video visits or simply scheduling and managing face-to-face visits, correctional facilities can find efficiencies, cut costs, and generate revenue each step of the way. Find out more at http://www.renovosoftware.com