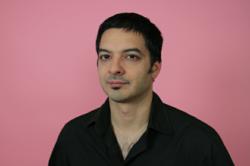 The trick is for a guy to walk in with the sole goal of having fun, says the report on men's dating tips.
San Mateo, CA (PRWEB) December 04, 2012
With the ambient lighting and cheer in the air, the holidays are a perfect time for a man to woo and seduce women into his life and the focus of the latest report by Dating Expert Carlos Xuma.
"Smart men know that the excitement and joy in the air around the holidays are the perfect time to show their playful and romantic sides to women," Xuma says in the report on dating tips for guys. "The ability to leverage these good feelings and this festive environment is the difference between success and failure."
One great thing about the holiday season, as Xuma says in his report, is the abundance of parties and other social opportunities to be taken advantage of.
"This often is the busiest social time of year for many people," says Xuma. "A guy who wants to meet women needs to make sure he is putting himself out there as often and as widely as possible."
A festive environment also usually means that people are in a good mood and ready to be entertained.
According to Xuma, "A guy who can bring that spark into a room is going to stand out from the other men milling around trying to get up the courage to approach a cute girl. The guy who is going to be the most successful in that type of environment is the guy who walks into the room ready to have a good time. That sort of demeanor and attitude is always contagious."
In other words, says the report on men's dating tips, the trick is for a guy to walk in with the sole goal of having fun.
"Sometimes if a guy internally takes the pressure of himself to meet someone, he will actually be much more successful if he had that as his goal in the first place," says Xuma. "It sounds counterintuitive, but it really works. It's all about charisma and the ability to attract others through the way a guy holds himself."
In Xuma's new report on dating tips for men, the role charisma plays in attraction is emphasized as essential, as is the ability of even the most shy guys to develop this attraction builder.
"It's a little bit like having a secret weapon," Xuma says. "But the good news is that it's not just for the superheroes. Any guy can develop this tool or weapon to us."
Carlos Xuma has been a dating expert and attraction adviser for more than 10 years and has appeared on ABC and CBS television, as well as Playboy radio. He has been recognized for his work sharing dating advice for guys; tips on pick up artist techniques, alpha male behavior, and how to talk to girls. He also is the author of The Bad Boy Formula, Secrets of the Alpha Male, the Girlfriend Training Program, and numerous other books and articles. He has spent years teaching hundreds of men how to attract women and when to call women on his website at http://www.carlosxuma.com.
For more information, visit Carlos Xuma's website at http://www.carlosxuma.com.