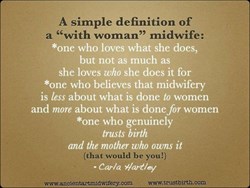 CNM visits are longer to provide individualized teaching and to get to know each woman's unique needs
Shelby Township, MI (PRWEB) December 29, 2012
Pregnant women are demanding a more personalized type of care during pregnancy. Women want their health care provider to be available during their entire labor, not just when the baby is crowning. The Certified Nurse Midwives (CNMs) of Women's Excellence in Midwifery, Tracie Achrem and Chris Borowski, are experts in normal pregnancy and labor and delivery; both provide care and support for the pregnant mother and the family at the bedside in the hospital setting once the mother is in active labor. The CNMs of Women's Excellence in Midwifery partner with women and bond with them during extended prenatal visits. "CNM visits are longer to provide individualized teaching and to get to know each woman's unique needs," says Achrem.
As women health care provider groups get larger and larger, women often feel disconnected from their providers of care. Questions like: "Who do I see at the next visit?", "Who will show up to deliver my baby?", or "Who do I call if I have a problem?", are common concerns among pregnant women. Meeting a health provider only once or twice, or even worse never meeting them at all, before delivery does not allow adequate time for the pregnant mother to establish a relationship with the person she is trusting to bring her child into the world. Many women view pregnancy as a very special time in their life and they like knowing who will be attending their birth.
Tracie Achrem and Chris Borowski are Certified Nurse Midwives at Women's Excellence in Midwifery and they are pleased to provide the personalized prenatal and labor and delivery care experience that pregnant women are looking for. "We are given the opportunity to get to know our clients very well, we can discuss any concerns they may have as well as what they would like to happen during their labor and birth," says Borowski. The advantage of having a provider that pregnant mother knows and trusts available during her labor is priceless. The Nurse Midwife keeps the pregnant mother informed about what's happening during the pregnancy, what to expect in labor, and employs natural pain relief methods to help the laboring mother cope with contractions, and yes, an epidural is still an option even with a midwife delivery!
Founded by Dr. Jonathan Zaidan, Women's Excellence in Midwifery is focused on providing a personalized approach to women's health and pregnancy with one-on-one, family-based care. The CNMs of Women's Excellence in Midwifery offer a holistic approach in the natural process of birth and minimize unnecessary interventions. Tracie Achrem and Chris Borowski are educated specialists in the "art" of normal labor and birth and view pregnancy as one of the most important events in a woman's life. The CNMs of Women's Excellence in Midwifery deliver at Crittenton Hospital in Rochester, MI. Visit them at http://www.centerofmidwifery.com.