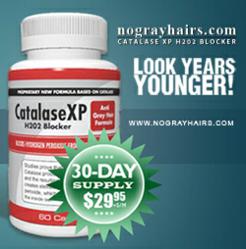 I am happy to have reached this milestone. It marks an important step for No Gray Hairs in our efforts to help those who want to get rid of their premature graying.
Salt Lake City, Utah (PRWEB) December 05, 2012
The anti-gray hair supplement, No Gray Hairs, is proud to announce their 25,000th bottle sold during the first week of November. Ryan Gardner, one of the owners of No Gray Hairs, shares his thoughts on the results.
Now reaching 25,000 bottles sold, the gray hair supplement No Gray Hairs, is continuing their focus on increasing brand awareness and promoting the science behind how the product works. In speaking with the co-owner of No Gray Hairs, Ryan Gardner, when asked how it works, stated "It is based on research that suggests gray hairs are caused by lack of an enzyme that breaks down hydrogen peroxide in the body. This enzyme, called Catalase, actually declines in level as people age. Hydrogen peroxide is produced naturally in the body and Catalase works to break down levels of the substance in the body." He went on to say "As levels of Catalase decline, research suggests that the higher levels of hydrogen peroxide actually bleaches hair from the inside out, causing premature gray hairs. The No Gray Hairs supplement works to replenish the body's amount of the enzyme Catalase to reverse the signs of gray hair."
The difference is night and day! I can't believe how good my hair looks! Friends and family ask me if I dye my hair but I just tell them that its all thanks to Catalase XP™. Thanks for working so well Catalase XP™, the results have left me throughly convinced. -Kent M.
When asked about this 25,000 bottle announcement, a co-owner Ryan Gardner said, "I am happy to have reached this milestone. It marks an important step for No Gray Hairs in our efforts to help those who want to get rid of their premature graying. I am looking forward to reaching our next goal soon."
For more information on No Gray Hairs, please refer to their website found at http://www.nograyhairs.com/