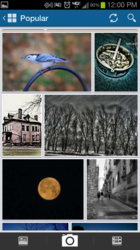 Streamzoo has continued to differentiate our offering, via innovative features and a solid growth curve...
Sunnyvale, CA (PRWEB) December 04, 2012
Streamzoo, the feature-packed photo sharing application on Android, iPhone, and the Web, announced its v2.9 release of their cross-platform application. After reaching two million downloads, this version features brand new filters, new thumbnails maintaining original aspect ratios, various sorting options for user profiles, and support for non-English tags.
Available today in Google Play and the Apple App Store, Streamzoo v2.9 reveals two brand new and fun filters, bringing the total to twenty. The new "Sketch" and "Animaze" filters transform users' uploads, turning ordinary photos into mini artworks. To fully showcase the new filters, Streamzoo's thumbnails are no longer square, but retain their original aspect ratios. This update dramatically changes the look of the Popular Wall and user profiles, from a grid of square photos to a mosaic-like layout. While at the profile pages, users can now sort their photos and other information by upload times, number of likes, or alphabetical order. Lastly, Streamzoo has added support for stream hash tags in languages other than English, as a nod to its international user base. This new release is a milestone for Streamzoo as it is the first official tablet version made to emphasize the slideshow feature on the Sony Xperia Tablet S.
"Instagram is clearly a bigger player within the mobile photo sharing industry, but they stopped innovating," said Ram Ramkumar, CEO & Co-founder of Streamzoo. "Streamzoo has continued to differentiate our offering, via innovative features and a solid growth curve on Android, iPhone and Web platforms. This release allows us to take the photo social experience to a new level."
About Streamzoo
Streamzoo is developed by Phonezoo Communications, Inc., a Silicon Valley based company specializing in providing mobile products and services worldwide. Streamzoo helps users share, organize, and discover #streams of mobile photos and videos. Not only is it a photo-sharing application, but Streamzoo also allows people from all across the world to connect in a creative way and see through the eyes of others.
###