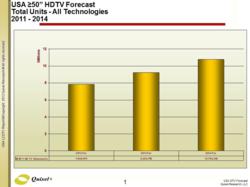 Newport Beach, CA (PRWEB) December 04, 2012
Quixel Research, the leading market intelligence firm in home entertainment and technology, today announced its Top Home Entertainment Trends for 2013. While it is hardly a surprise that tablets and anything with "i" in front of it will sell well in 2013, bubbling right beneath the surface are the next trends that will change the landscape of home entertainment in the coming year and beyond.
Top 5 Trends for 2013:

Mobile Devices and TVs Finally Talk to Each Other – At last, the seamless integration of mobile and home - consumers will connect all their devices together (tablets, TVs, smartphones, PCs) versus just multitask.
TVs Get Bigger and Bigger – The "Big Screen TV" is back and it's not like your old Big Screen TV – this 'go round its big and flat.
Sound Becomes Important Again - Sound Bars complete the picture because consumer can't hear the dialog anymore.
Death of Disks – After last gasp for disks in 2012, entertainment goes all digital, long live Video on Demand.
Rebirth of the "Smart Home" - Home automation and controls for the masses revived; it's still a little complicated, but the consumer "gets it" now.
Top 5 Trends for 2013 and Beyond
Quixel's syndicated and primary research reveals that improved manufacturing capabilities and the overall Appleization of consumer electronics support the Top Home Entertainment Trends for 2013 and beyond. Tablets, mobile devices and apps are no longer a trend, more so enablers for many of the next big things in home entertainment. These 2013 trends will be the cornerstone for home entertainment growth and demonstrative of our future all-encompassing connectivity. For more statistics and charts, please visit http://www.quixelresearch.com.
Quotes:
Tamaryn Pratt, Quixel Research Principal and Founder:
Next TV purchase – Connectivity is Key
"While it's certainly true that the TV remains the centerpiece of the home, 78% of consumers use other devices while watching TV, but they are "watching" both devices and not really "connecting" products together. This will rapidly change due to the economic drivers for device manufacturers, content owners and distributors, as consumers push for better connectivity. A recent QR survey showed when consumers were considering their next TV purchase, nearly 70% were strongly motivated to buy a TV that could easily sync with their mobile devices."
Bigger Gets Cheaper
"Bigger IS better…and now thinner. Due to manufacturing efficiencies today versus just a few years ago, TV makers can bring very large TVs – for example 55", 60, 65" or even larger – to the market more readily and cost effectively. No longer bound by furniture, and further freed by the fact that these larger flat panels are lighter yet still energy efficient, plus amazingly cheaper, consumers are migrating to larger sets in dramatic fashion. 50" and above flat panel TV sales will increase close to 20 percent in 2013 over 2012 and almost double by 2015."
Emphasis on Sound
"In the past 5 years the majority of consumers resisted the many speakers, wires and installation obstacles, and focused on upgrading to a new Flat HDTV; however, after living with their Flat TVs, many consumers are struggling with poor audio due to the smaller speakers inherent in typical Flat TVs. In fact in buying a TV with good sound quality ranks in equal importance as screen size with consumers recently surveyed by Quixel. Enter today's Sound Bars – a single speaker that sits below the TV and produces a satisfying surround sound experience yet is very easy to set up, simply designed and costs lots less than multiple speakers."
Paying for Digital Content
"The 'whatever, whenever and wherever' content mentality for mobile devices has migrated to the TV now. There's a reason you don't go to the video store anymore, because affordable content is available nowadays from so many different sources without having to leave your house. More movies and shows will be streamed to TVs than PCs in 2013, and nearly 50% of connected TV owners in a QR recent study have paid to download/stream content. Additionally, consumers can buy once and stream to different mobile devices."
Big Growth in Home Control
"It used to be cool to have manually programed lights that simply come on at dusk or while you were away. Now fueled by the internet and app's you can control a myriad of devices in and around your home from a mobile device or remote. Control of your Heat/AC, security cameras and settings and even programing your DVR can all be done remotely and as easy as checking your bank account on your smartphone. Almost every function of the home can be controlled when consumers are away. In a recent QR dealer study, over 88% of custom installers surveyed expect their home control sales to double in 2013. They cite generation energy efficiency as a home automation driver, making this not just an era of extreme convenience, but also one of 'green' and cost savings."
About Quixel Research
Quixel Research provides market research services covering the consumer Home Entertainment TV and audio markets. The company details the state of the current market, future trends, and pending technology shifts as well as extensive primary research, providing insights into the opinions and attitudes of consumers. For more information about Quixel Research, visit our website at http://www.quixelresearch.com and follow us on Twitter @quixelresearch.